TMP's 2011 Christmas Wishlist: What Do Movie Buffs Want?
Here at TMP, we're a bunch of movie nerds...Seems like a no-brainer, but as such, we tend to have unique items on our Christmas lists.  So if you've got a movie buff that you need to shop for this Christmas, maybe our own individual wishlists will aid you in finding that perfect gift.
Carla

The reason it took so long for me to write something down on my wish list is not lack of wanting something, but it is because I want everything.  However, since we are not writing a novel, I did manage to narrow it down to two things:

I love Anthony Hopkins!  He is one of my favorite, if not the favorite, older Hollywood actors.  The man is undoubtedly a living legend in the film world.  What Hopkins fan would not want an autographed photo from Silence of the Lambs?  As a bonus, this one has Jodie Foster's signature!

Besides being an Anthony Hopkins fan, I love most 80s themed films.  Who better to take me back to my childhood than John Hughes?  My favorites are nicely compiled in his high school collection.
Jarod
Ooo buddy, what to ask for for Christmas?  Well since I have been a good boy this year (I swear!) there are a few things and since I got to check off my new TV early, here are the rest of them.  My Christmas Wishlist regarding movies, games, and some other major desirables.
Movie-Related

1) Lord of the Rings Trilogy Extended Edition Collection (DVD not Blu-Ray)
2) Original The Thing 1982 Movie Poster
3) GoPro HD2 Camera (Have you seen this video???)
4) ZoomH4N Portable Audio Recorder
5) A personalized (or not) autograph of Anthony Hopkins

Game-Related
1) 100,000 gold for my WoW Account
2) Xbox 360 Kinect
3) Dead Island for Xbox 360
4) SNES with Super Scope
5) Mario Party for N64

Miracles?
1) An actual casting announcement about the Warcraft film that includes my name
2) Voice-over gig in Halo 4
3) Red One HD Camera System (I have wept at the pure epicness of this thing)
4) 1000 Watt LED Lighting System
5) The Death of Blu-Ray and the Defiant Return of HDDVD
6) Netflix to return to it's original pricing setup
Oh!  And someone get that new street-legal Tron: Legacy Light Cycle for Jordan.  I heard he almost had a stroke when it went public that they were making these.
Dustin

I am a big movie fan, but my real interests are in animation. When you are such a huge animation fan there are plenty of things to choose from. You can go as simple as action figures, to great collectible items. So it was hard to pick just a few things that I liked. Note that some of this could be more geared towards kids as well, unless you are a fan like me of course.

1) A hand drawn picture of your favorite cartoon, or a storyboard (sketch) used in your favorite films. You see these pop up all over Ebay and elsewhere because overall the people working behind the scenes are artists. When you have rights to draw characters like this, why not sell them? The nice thing is you can go to many places and actually get a custom hand drawn picture, and have the artist draw them in front of you. Disney has several running around all over California for example, but you can find plenty online and around your town most likely. My girlfriend actually was about to die to try and get a Tangled (Rapunzel and Flynn together) drawing with her name on it.

2) TOYS! Alright I'm a child at heart, but this stuff is totally awesome to me. There are tons (and I mean tons!) of things you normally buy for kids that become collectibles within years. I love action figures based off comic book movies,I love light sabers from Star Wars (If you are super duper nice, get a "real" light saber!) I will even throw comic books in the mix here. You guys do realize local comic book shops are still open right? Well they have all this stuff and you will probably be fascinated yourself with everything they have. I love comic books, and comic books are big in the movie industry right now. what better way?

3) Simple movie related gifts. Gift cards, a bow made out of a film reel, or some quircky thing you find yourself. If you are that dedicated and really love the person, why not make your own movie?
Dylan
Realistically, what I want is simply some DVDs and a PS3.  But if I get to think outside the box....I could use a car.  And what better car than the Batmobile? Is it even street legal?  Probably not.  Do I care?  Not at all.  Why anyone wouldn't want to drive the Batmobile around is unfathomable.

Another cool gift would be an photo autographed by The Usual Suspects main cast.  The photo would, for me at least, have to be the police line-up scene. Or we could go with the Darth Vader helmet used during filming of Star Wars.  How awesome would that be?  Of course, it'd take a lot of self control to not put it on and wear it constantly...but I've got willpower.  Right?

Finally, what I want most for Christmas, cannot be wrapped or even given when I really think about it.  I would love it if Marvel were to get the rights back to the rest of their characters.  Spider-Man, the X-Men, Daredevil, Ghost Rider, etc.  That would allow for a truly connected film universe and leave open the possibility of awesome team-ups.  Wolverine and Spider-Man on the Avengers?  A Civil War or House of M adaption?  Chris Evans interacting with a new Human Torch?  THAT is the ultimate gift for yours truly.
Aidy

The only thing I wanted for Christmas was the XBOX 360 game Skyrim--which I have. Then, I wanted the Lord of the Rings Trilogy collector's set--which I have and, a Kindle Fire--yes, I got that too. Now what I do not have and I truly want, is every single book J. R. R. Tolkien has ever written and collaborated on; to interview with Peter Jackson and Andy Serkis; and well, that's pretty much it actually.

Sure, I can list a hundred other things I would like to have, but what I truly would like is to wish that everyone has a warm fire, a blessed holiday, and eternal happiness.
Jonathan Sullivan

My Christmas list consists of four items. Yes, that's it. Stop looking at me like that.

Jurassic Park Trilogy (Blu-ray): One of my favorite film franchises on the best format with loads of special features and digital copies? Hell to the yes. And that includes the third movie which most abhor but I enjoy as a dumb action movie. Plus now if I ever get cornered by raptors, I know to bring a fossilized skull with me to blow into like a conch to communicate with them. Totally feasible. Ahem. Moving on...

Star Wars: The Original Trilogy (Blu-ray): If I have to explain why, I don't want to ever meet you in person.

Moguls and Movie Stars: A History of Hollywood: This ran on TCM awhile back and I never got to catch all of it but I loved what I saw. I'm a sucker for anything relating to the history of the movie business and this is right up my alley.

Superman Vs. Hollywood (Kindle version): A book about the many incarnations of Superman on both the big and small screen and the struggles people went through to make it happen. I find it somewhat fascinating and there are some interesting stories to be told, even if I personally don't find much to like about the Man of Steel as a character.

As for anything else...I have a job. I'll just buy it when I have the money.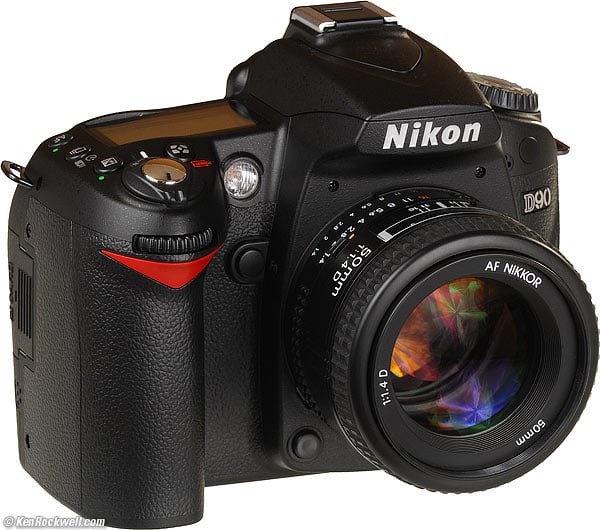 April
It is truly hard to settle on just one thing especially if you have a wide interest in film along with its sister associations. As a graphic designer/photographer, I would love to get my hands on a Nikon D90. After working with the D70 many moons ago, I am smitten with the line. The Nikons print quality in large formatted images would send your mind into a frenzy. Imagine a 13x19" actor headshot. Glorious is the only word that sums it up.
Not only does the Nikon's photo quality blow your socks off, but also it has the capability to shoot in HD-movie mode. Back in my early college years, I'd shoot random story lines that were silly (embarrassing really) but my colleagues and I had a blast. Having the potential to shoot HD would renew my interest in storyboarding, writing, acting and directing. To coincide with this enormous gift and to complete the entire package, one must have Final Cut Pro X. If you're going to have the promise of creating your own mini-web series (serious or fun), you have to have the software to finish the dream. I was never short on going all out. I doubt I'd ever make it to Spielberg's level, but I know I'd have fun in my downtime creating my own shorts.

Final Cut Pro X
Nikon D90

Since my ultimate Christmas list would require a second mortgage, I have always wanted a slew of the classic Disney movies on DVD. I would dedicate an entire bookcase (or two) for these movies. To me this is when films had substance and creativity. Each time I see a new kiddy movie hit the big screen – I cringe. It doesn't hold a candle to these memorable films. Some of my favorite timeless classics are older than my parents. They grew up on them. I grew up on them. Someday if I have children, they will experience the same. Some of the DVDs I'd love to own would be:

Snow White and the Seven Dwarfs (1937), Dumbo (1941), Bambi (1942), Saludos Amigos (1943), The Three Caballeros (1944), Cinderella (1950), Peter Pan (1953), Lady and the Tramp (1955), Old Yeller (1957), Sleeping Beauty (1959), The Shaggy Dog (1959), Swiss Family Robinson (1960), 101 Dalmatians (1961), The Sword in the Stone (1963), That Darn Cat (1965), The Jungle Book (1967), The Aristocats (1970), Petes Dragon (1977), The Rescuers (1977), Popeye (1980), The Fox and the Hound (1981), The Brave Little Toaster (1987), Benji the Hunted (1987), Oliver and Company (1988), The Little Mermaid (1989), Honey, I Shrunk the Kids (1989), The Rescuers Down Under (1990), Beauty and the Beast (1991), White Fang (1991), Rocketeer (1991), Wild Hearts Can't Be Broken (1991), Aladdin (1992), Homeward Bound: The Incredible Journey (1993), The Three Musketeers (1993), Hocus Pocus (1993), and The Lion King (1994).

Granted this list of movies would take a couple Christmases, but it would be well worth it. I am sure there are more I could add into my collection, but these always stood out to me in my childhood. Half.com will be my stomping ground to start my Merry Christmas to me list. There's no better time than the present to start on my Disney DVD collection.
Victor

Christmas is always a time for me to build up my nerd cred, and that means picking up things that make other people think "Where does he get those wonderful toys?" My suggestion is not a toy or a thing as much as a necessity while you enjoy your toys. You'll see what I mean.

Americans like to be comfortable, but it's hard to do so and look good at the same time. The Snuggie comes to mind. However, American know-how has finally solved this problem. Ladies and gentlemen, I give you bath robes for nerds:
Yes, you are seeing what you think you're seeing. It's a bath robe that looks like Rocky Balboa's boxing robe. It's from a website called RobeShow.com, and it's the best damn gift you could give to a man.  Robe Show has licensed a number of pop culture properties to create these awesome bath robes. Besides Rocky, you can also get robes based on Evil Knievel (a white robe with blue trim to resemble his jumpsuit) and Bruce Lee (yellow with black trim, like Uma's suit in Kill Bill).

Of course, they also make Star Wars robes, including brown Jedi robes and black Sith robes, each with a hood and logo on the chest. There's even a Yoda robe, complete with ears on the hood. Classic Star Trek fans can get robes with the colors used in the original series (in Kirk gold, Spock blue, and Scotty red), all with black trim and a Starfleet insignia on the chest, just like the uniform.

DC Comics fans can find something they like, including Superman, Batman, Green Lantern, and Joker. Of course, each has colors to match the costumes (Batman is black, like the movie outfit, but with the yellow comic logo) and logos on the chest.
Ladies can also order robes, including Uhura-themed robes (extra-short, of curse), as well as red Wonder Woman robes. Yowza. Kids can find Star Wars robes in their size as well, in the Jedi and Yoda styles.

Prices for the robes vary. Lighter fleece versions of many men's robes can run $45, up to $60 for heavier towel-like material. Jedi and Sith robes (which are full-length) cost a bit more, between $70 and $80. Women's robes can run $45 to $60, while kids robes are $30.

The site offers free shipping (at least for now) and promises to make Marvel-themed robes in the future. Never underestimate the importance of a good bathrobe: look what it did for The Dude in The Big Lebowski. To use another pop culture reference, I can just hear the Emperor's words mocking me right now: "You want this, don't you?"
Matthew
This year, I've decided to split up my Christmas list as follows: Completely Plausible and Totally Useful, Completely Plausible But Totally Unnecessary, and Completely Implausible But Still Badass as Hell.  Let's just get into it then, aye?
Completely Plausible And Totally Useful: Blade Runner Style LED Umbrella (image above)
As some of you may know, I'm a huge fan of Think Geek.  In my opinion, it's the best place on the internet for useful geek accessories.  And in the worst of winter storms, this would definitely count as useful.  Sure, the LED light COULD count as a fire hazard, but do you REALLY care about that?  It's a freaking light up umbrella from Blade Runner.  You should already be sold.
Completely Plausible But Totally Unnecessary: Han Solo Frozen in Carbonite Choclate Bar
Also from Thinkgeek.com, this sucker is awesome and probably delicious.  And at the price of $12.99, how could you possibly pass it up?  Then again, it REALLY has no use whatsover.  I mean, you don't want to eat it; it's way to awesome for that.  So what you really have is a 12 dollar paperweight.  But an awesome, completely geeky paperweight at that.
Completely Implausible But Badass As Hell: Terminator Endoskeleton Life Size Bust

At a whopping $6,000, chances are you will never get this gift in your entire life.  But c'mon, why wouldn't you want it?  Standing at an impressive 6 feet tall, this statue would be perfect as a scarecrow, or a robust form of security.  I mean, think about it; who would want to break into the house with the 6 feet tall Terminator looking at him throw the window?  I mean, yeah, probably everyone because they know that's a house of great wealth, but still!  When it comes to rich movie geek gifts, you can't do much better.
Jordan:

Holy crap!  I'm not sure what I could really list that my fellow comrades haven't already (and thanks Aidy for making us look bad by being completely unselfish and generous).  Some of these lists are just awesome and exorbitant!  Well, let's see what I can do.  I've been fairly happy this year in managing to snag all of the latest box sets on blu-ray, but for other movie buffs that may be perfect.  I would say that this year, I really want....

The freaking Death Star.  Sure, this thing came out a while ago, but at a whopping 3,800 LEGO pieces it would still be ridiculously awesome to have.  Outside of that, I'd be pretty happy with some movie gift cards.
As far as Christmas wishes goes...A new MacBook Pro would be awesome, along with a copy of Final Cut Pro that doesn't suck and my life miserable for us Editors.  Lastly, I want Jarod to realize the awesomeness of blu-rays...because they are the way God intended us to watch films!
---
Well, that's our Christmas wishlist.  If you've got a movie geek that you're shopping for this year, hopefully our lists will help you pick out the perfect gift for him/her.

To all our readers, from all of us here at TheMoviePool, Merry Christmas and have a Happy New Year!