Bard the Bowman (or Bard the Grim) has a small, but very important role in The Hobbit book.  After rallying his town's defenses he's finally the one who brings down the evil dragon Smaug.  It's a pivotal part in the book, but only takes up about a chapter of time.  But more than likely, Peter Jackson is going to be extending the role into a much larger part (since it would fill in the Aragorn gap pretty well), as it's being reported that he'll have a large role in the second film.  To that end, Luke Evans (The Three Musketeers, Clash of the Titans, Immortals) has been cast in the role.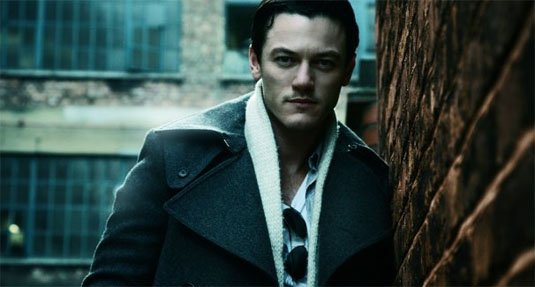 But you know what's more exciting than that?  The voice of Smaug and the Necromancer have been cast as well…using the same guy.  Benedict Cumberbatch (War Horse, forthcoming Tinker, Tailor, Soldier, Spy), has been rumored to be a part of the cast for quite some time now, but no one knew in what capacity.  It's known now that he'll be providing the voice of the Necromancer (and has been on set for a while).
For those of you who've read the books, including the Lord of the Rings, you'll remember that the Necromancer is a dark creature that Gandalf runs off mid-way through the book to go fight.  As it turns out the Necromancer is actually a spiritual manifestation of the Dark Lord Sauron working his evil in the world.  While that sounds incredibly awesome, it was such a small part of the book.  In fact he's only ever mentioned by Gandalf, who then disappears, and only brought up once more when Gandalf returns.
Since Sauron was the main villain in the previous LotR films, it's also safe to assume that Jackson will be making that role larger in his movies, perhaps even the main antagonist in the second film.
On top of providing the voice for Smaug, Cumberbatch will also be suiting up to provide some motion capture work for the villainous dragon.  I'm not sure exactly how a human will mo-cap a mythical beast with wings and a snout…but whatever.  It should still be pretty awesome to see.
The Hobbit: An Unexpected Journey will release December 14, 2012, while part 2 The Hobbit: There and Back Again will release on December 13, 2013.  Needless to say, we're all very excited.  So what do you guys think of these casting choices?
-Jordan