This news actually hit my email this morning via the Star Wars website's newsletter as well as a small feature on the main site, but nonetheless its exciting news (especially for huge Star Wars nerds like me).  While it's not the live action TV show announcement we've all been waiting for, it's nice to see more Star Wars things coming up in the future, especially one that turns the saga on it's ear. 
This series is looking to flip the script and pull the saga away from the dour life-or-death situations that involve consequences on a galactic scale.  Instead it will blend wry comedy with irrevent humor, almost poking fun at itself, as they look to focus on other members of the galaxy and their lives when they aren't overthrowing an empire, and how the "small" guys are effected by such dramatic events.
As if to prove they're serious about the change in direction, Lucasfilm has made a genius move, in bringing on Seth Green and Matthew Senreich (executive producers for Robot Chicken) for creative involvement, with writing from The Daily Show's Brendan Hay.  Todd Grimes (Back at the Barnyard) is taking up the director's seat on this one and had this to say:
"There are so many stories taking place in the Star Wars universe, and they don't all have to focus on the fate of the galaxy…We're looking at Star Wars from a new perspective; this will be a glimpse at how the rest of the galaxy is affected by the events of the Saga. There's a lot of humor to be mined from that."
With a galaxy as vast as Star Wars, it's easy to take a whole new approach to the saga without messing anything up.  It's safe to say though, with the success of the Robot Chicken and Family Guy parodies, the new show should have enough for both fans and non-fans to enjoy.  No word on a release date (my guess it won't be at least until 2011, if then), and no actually confirmation on any particular time period this will take place.  Based on the quotes I'm willing to bet it will span the entire saga just from someone elses point of view.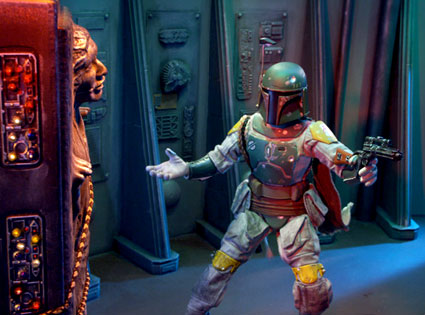 As more news comes out we'll be sure to keep you informed, but at the very least this will keep you sated until the long awaited live action show arrives.
-Jordan