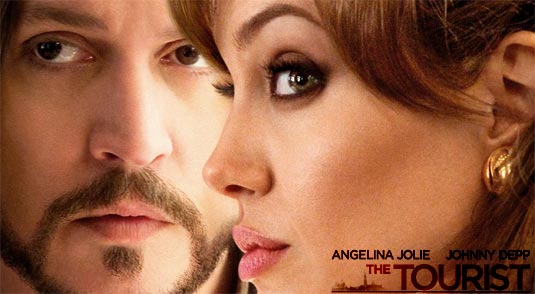 10. The Tourist $5.7 million
Johnny Depp and Angelina Jolie may be hot individually, but together they were a tepid combination. After three weeks, the films barely passed the $40 million threshold, well below what these actors average for movies they headline.
9.  Tangled $6.5 million
After a strong opening, Tangled has underperformed compared to other Disney films. With over $140 million in ticket sales, it has hardly been a flop, but rather a modest hit in Disney terms. The real payoff will come in DVD sales.
8. Black Swan $6.6 million
All of the Oscar buzz around Black Swan has kept box office receipts strong despite a smaller release. Considering it is such a dark film, Swan did well as counter-programming to the lighter Christmas fare.
7. Gulliver's Travels $7.2 million
The latest Jack Black comedy had a good opening in only two days of release, but it faces a crowded field of family films already in theaters. There isn't much buzz, and critics ravaged it (the Boston Herald called it "an abomination"). Besides, I can't be the only one who thinks Jack Black's shtick is wearing thin.
6. The Fighter $8.5 million
Despite adding more screens, overall receipts dropped slightly for David O. Russell's latest. While it's doubtful it will be a major hit, Oscar hype should keep audiences interested enough for a modest return.
5. Yogi Bear $8.8 million
Another lifeless CGI movie bites the dust. Boo-Boo and company dropped nearly 50% from its opening week, as poor word-of-mouth and bad reviews have put the movie on the endangered list.
4. The Chronicles of Narnia: The Voyage of the Dawn Treader $10.8 million
Dawn Treader managed to play well in its third week, dropping only 13% from the week before. Despite the lukewarm reviews, I found the new Narnia to be entertaining and fresh, without pulling out the tired old conventions seen in other average films. Besides, I'm a Reepicheep fan.
3. TRON: Legacy $20.1 million
Sure, the CGI Jeff Bridges didn't always look right, and the movie's got issues, but TRON: Legacy remains an entertaining trip to the cinema. It did drop significantly (50% over last week) but it is still bringing in viewers faster than light cycles.
2. True Grit $25.6 million
Joel and Ethan Coen may echo the same subjects in their films, but it never seems tired. This remake of the John Wayne classic is riveting, even if Jeff Bridges sounds like his mouth is full of gravel and half-numb.
1. Little Fockers $34 million
I found the original Meet the Parents fairly funny, the second to be painfully unfunny, and the third may signal the rise of the anti-Christ. Shame on you, DeNiro and Stiller. Critics were generally disgusted, but RottenTomatoes.com states that audiences love it. SHEEP! YOU ARE ALL SHEEP!
By the way, thanks for reading….sheep.
Source: Box Office Mojo