Part I: Acting
One of the most prestigious category of awards, these Oscars go out to the brightest stars and biggest talents that Hollywood has to offer.
Best Actor in a Leading Role
Jeff Bridges, True Grit
John Wayne won an award back in 1970 for the original True Grit, and I'll be surprised if Bridges didn't get a nomination as well.
Jesse Eisenberg, The Social Network
Eisenberg has gained almost universal acclaim for his role as Facebook cofounder Mark Zuckerberg; a surefire nomination.
Collin Firth, The King's Speech
By far the most "indy" choice, Collin Firth apparently surprised critics with his daring, yet highly praised, performance as the stuttering King George VI.
James Franco, 127 Hours
It's a "harrowing survival tale", a true story, and a primarily one man show.  Smells like "Oscar" to me.  And not the Grouch either.
Mark Wahlberg, The Fighter
Well not a surefire bet, the Academy will likely choose Wahlberg just to make the "safe" choice.  It's a widely seen movie, and a critically acclaimed one at that.  So why not?
Dark Horse: Leonardo DiCaprio, Inception/Shutter Island
This was Leo's year, with his performance in both Inception and Shutter Island both award-worthy.  But will the Oscar's be willing to give acting awards to a science fiction or physiological thriller?  And is the time gap between the Awards and movie releases to wide.  I'd say yes, but stranger things have happened.  I'm looking at you, Marisa Tomei.
Winner: Collin Firth, The King's Speech
While I'd initially say that James Franco would take the gold, I'm not quite sure they'd give the award to the host of the ceremony.  But Collin Firth took home the Golden Globe, so that's probably a good indication of his Oscar potential.  Expect him to take home this award as well.
Best Actor in a Supporting Role
Christian Bale, The Fighter
Bale has been guaranteed an Oscar nomination since the first picture of his acting "condition" was released.  How method.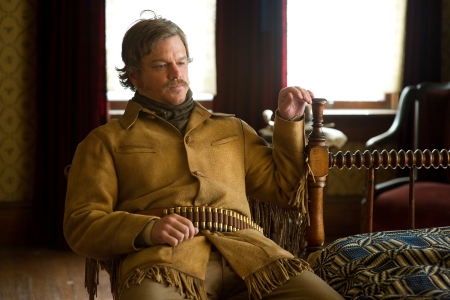 Matt Damon, True Grit
Well most praise is focused on Bridges and Steinfeld (and deservedly so), Matt Damon is equally good as the third member of the True Grit trifecta.
Andrew Garfield, The Social Network
Well he has no chance of winning, a nomination is certain for the new Spider-Man.
Jeremy Renner, The Town
To think, Jeremy Renner has barely reached popularity and he already is preparing to have two Oscar nominations.  Hawkeye for Best Supporting Actor 2012.
Geoffrey Rush, The King's Speech
If anything, The King's Speech will certainly maximize on acting nominations.  All three of the principal actors will probably be up for awards this season.
Dark Horse: Justin Timberlake, The Social Network
Ha, in Timberlake's dreams.
Winner: Christian Bale, The Fighter
The always committed actor has been asking for an Oscar since American Psycho. I will completely assure that you he will finally get it come February 27.
Best Actress in a Leading Role
Halle Berry, Frankie and Alice
She has a mental illness, and it causes her to be a racist.  What do you think Oscar voters will decide?
Jennifer Lawrence, Winter's Bone
Jennifer Lawrence's lead actress debut is making waves amongst critics and viewers.  Another guarranteed bet.
Julianne Moore, The Kids Are All Right
At least one of the pair from The Kids Are All Right will get a nomination, and I'm going to make a blind gamble and say this one.
Natalie Portman, Black Swan
Natalie Portman's performance as the mentally unstable ballerina Nina Sayers has been hailed as one of the best of the year…which is why she will get nominated, see?
Michelle Williams, Blue Valentine
The emotionally torn role of a dissatisfied wife is a pretty good Oscar bet.  Which leds us to our next choice…
Dark Horse: Nicole Kidman, Rabbit Hole
She's a grieving mother and, disregarding The Lovely Bones, that always gets Oscar sympathy.  But not many people talk of Rabbit Hole, so will the Academy?
Winner: Natalie Portman, Black Swan
No surprises here.  I'd bet an arm and TWO legs on the fact that Mrs. Portman will soon receive Oscar gold.  Still, it's nice to see how far Queen Amidala has come.
Best Actress in a Supporting Role
Amy Adams, The Fighter
Well Adams has been known to venture into headstrong roles before, The Fighter shows the actress in a whole new light.  She will be rewarded accordingly.
Helena Bonham Carter, The King's Speech
Oh my god, for once Helena Bonham Carter ISN'T playing the weird goth chick.  We need to commerate this.
Melissa Leo, The Fighter
Remember how I mentioned how The King's Speech has an abundance of acting nominations?  Well, The Fighter has the monopoly.
Hailee Steinfeld, True Grit
Well I'd say Steinfeld's performance fits into a more "leading lady" category, she has a better chance of getting nominated here, and it seems the studios realize that.  So here she remains.
Jackie Weaver, Animal Kingdom
Animal Kingdom won't get much attention from the Academy, but it will be able to sneak Jackie Weaver's performance in perfectly.
Mila Kunis, Black Swan
Well I'm not debating Kunis' acting prowess, I'm not exactly sure she's "Oscar material" yet.  Of course I haven't seen the movie, so what the hell do I know?
Winner: Melissa Leo, Black Swan
Well I want Hailee Steinfeld to take home this award with all my heart, I can't deny that Melissa Leo probably deserves it more.  Not because I've seen the performance (me being the badly informed person I am, I haven't seen the movie yet either), but because she honestly has the most "clot" of all the other nominees.  I honestly have no idea how to describe what I mean then "clot", but you get the point.  Melissa Leo will get the reward, I assure you that much.
Well, that concludes the Acting awards.  Check back early tomorrow for the the second part of this three part feature.