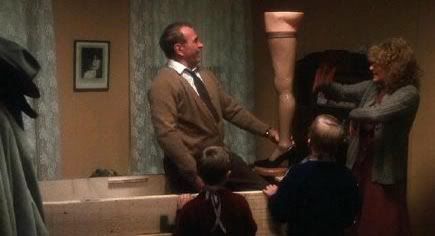 10. "It's coming Tonight! Tonight! Tonight! Tonight! Hot damn, tonight!" – The Old Man
Darren McGavin had plenty of classic lines in the film, but his anticipation of his forthcoming "major award" explains why he so vehemently defends his leg lamp later on.
9.  "Life is like that. Sometimes, at the height of our revelries, when our joy is at it's zenith, when all is most right with the world, the most unthinkable disasters descend upon us."
(The Bumpus Hounds enter the house and eat the turkey)
"Sons of bitches! Bumpuses!"
"The heavenly aroma still hung in the house, but it was gone, all gone! No turkey, no turkey sandwiches, no turkey salad, no turkey gravy, turkey hash, turkey a-la-king, or gallons of turkey soup! Gone, all gone!"
– Adult Ralphie and The Old Man
A movie that celebrates letdowns springs one more on us, as the hillbilly neighbor's hounds force the Parkers to go eat Chinese food.
8. "Fra-Gee-Lay. This must be Italian."
"I think that says 'fragile' dear."
– The Old Man and Mrs. Parker
Does anyone say 'fragile' correctly anymore after this classic line?
7. "Scut Farkus, what a rotten name! We were trapped. There he stood, between us and the alley. Scut Farkus staring out at us with his yellow eyes. He had yellow eyes – so, help me, God – yellow eyes!" – Adult Ralphie
Scut Farkus and his yellow eyes joined the long list of classic movie villains after this epic introduction.
6. "Now, I had heard that word at least ten times a day from my old man. He worked in profanity the way other artists might work in oils or clay. It was his true medium; a master." – Adult Ralphie
The F dash dash dash word must be The Old Man's Mona Lisa.
5. "I double-dog-dare ya!"
"Now it was serious. A double-dog-dare. What else was there but a 'triple dare you,' and then, the coup de grace of all dares, the sinister triple-dog-dare."
"I triple-dog-dare ya!"
"Schwartz created a slight breach of etiquette by skipping the triple dare and going right for the throat!"
-Schwartz and Adult Ralphie
Seeing a tongue stuck to a flag pole is funny, but this exchange leading up to it was funnier.
4. "The old man stood there, quivering with fury, stammering as he tried to come up with a real crusher. All he got out was.."
"Not a finga!"
-Adult Raplhie and The Old Man
Hands down, Darren McGavin's best line in the film.
3. "Randy lay there like a slug. It was his only defense." -Adult Ralphie
The sight of poor Randy lying in the snow puts this line over the top.

2. "Oh Fudge."
"Only I didn't say fudge. I said the word, the big one, the queen-mother of dirty words, the F dash dash dash word."
-Young and Adult Ralphie
You know what's cool? You can actually buy 'Oh Fudge' Fudge at Walgreens.
1. "Oh my God, I shot my eye out!" – Adult Ralphie
Sure, everyone quotes the original version, 'You'll shoot your eye out,' but for us, the irony of Ralphie shooting himself and saying that line makes this our #1 choice.