The Academy Awards have long recognized many different contributions to film production, but one area has so far not been given the opportunity to bask in the same spotlight. Here we look at what could have happened if the Oscars had recognized the films with the best stunt performances over the past 20 years.
An Oscar is the most prestigious award a film, film professional, or actor/actress can earn. However, the process The Academy uses to select both its winners and the categories of its awards has long been under scrutiny. While those who excel in the art of hair styling/make-up, music, special effects, editing, and sound have all been recognized by The Academy for their contributions to the art of film, one aspect of film making has more or less gone unrecognized.
It is true that many films do not have stunt work, but most of them do. Even in romances and comedies, there is work for stunt people to perform. Of course, the most challenging stunt work is often associated with action films – films the Academy has not always recognized when handing out their nominations and awards. But maybe it is time they should?
Stunts are a technical achievement just as, if not more challenging than any other aspect of film production. Stunt work can be dangerous, requires a unique skill set, and makes for some of the most entertaining moments of your favorite films. Stunt work requires choreography, creativity, and technical precision – it is a form of performance art which goes back almost to the invention of film itself. Audiences and film critics have long recognized the importance of stunts in film, and it is time for the Academy to do the same.
Of course, I can't make the Academy do what I want it to. Instead, I propose the following thought exercise. If there had been an Oscar for Best Stunts in a Motion Picture, which films would have won them? Looking back over the last 20 years, I chose the 5 films I would nominate for the award, and highlighted which one I think deserved the win.
In selecting the nominees, I looked for films where the stunts played a major role in the entertainment factor of the film. Those films are ones which had memorable action moments made possible by stunts, or utilized stunts in combination with special effects to delight their audiences. Martial arts films are often stunt-heavy, and are common in any year.
However, martial-arts films are usually foreign films, which are (wrongly) not often recognized by the Academy outside of the Best Foreign Film category. Therefore, to be consistent with the Academy's selection process, I have decided to skew my selections more towards domestic releases. There are simply too many martial arts films released internationally to be able to do them any justice. Some foreign films pop up as nominees now and then, but only when I would consider them "pop-culturally significant" releases or else exhibiting innovation in the realm of stunt work for a given year.  
1998
Nominees:
Blade
Rush Hour
The Mask of Zorro
Saving Private Ryan
Winner: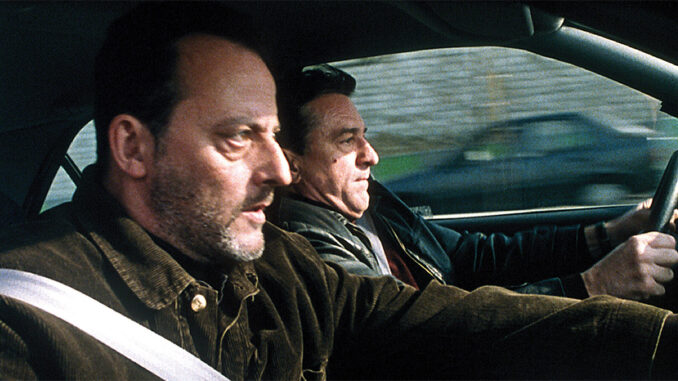 Ronin – Featuring the second-greatest car chase sequence ever made, this one is a no-brainer.
1999
Nominees:
Star Wars: Episode I
The Mummy
Fight Club
The World is Not Enough
Winner:
The Matrix – The Matrix fundamentally changed how filmmakers use stunts in films. It is one of the most innovative movies ever made, and a lot of that creativity went into the stunt work.
2000
Nominees:
Gladiator
Charlie's Angels
Romeo Must Die
Mission: Impossible 2
Winner: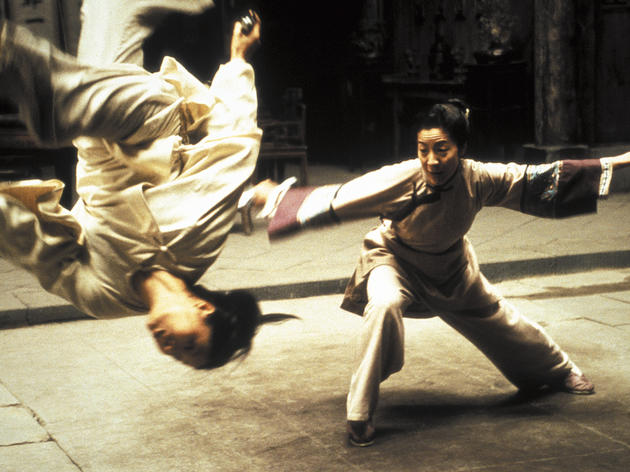 Crouching Tiger, Hidden Dragon – Following in the footsteps of The Matrix, Crouching Tiger elevated stunts to a new level of artistry. They are an important part of an unforgettable film.
2001
Nominees:
Rush Hour 2
The Fast and the Furious
Behind Enemy Lines
Hero
Winner:
Black Hawk Down – This was a tough one. Ultimately I had to go with Black Hawk down because the film is essentially one long action scene and it received other Oscar attention. However, The Fast and the Furious introduced us to a stunt-filled franchise which would come to define big-budget action films in the next decade.
2002
Nominees:
Ballistik: Ecks vs. Sever
Blade II
Die Another Day
xXx
Winner:
The Bourne Identity – The Bourne Identity introduced mainstream audiences to a new, grittier, more realistic action movie. That approach stuck and to this day the film is fondly remembered for its stuntwork.
2003
Nominees:
Kill Bill: Volume 1
The Italian Job
Bad Boys II
Pirates of the Caribbean
Winner: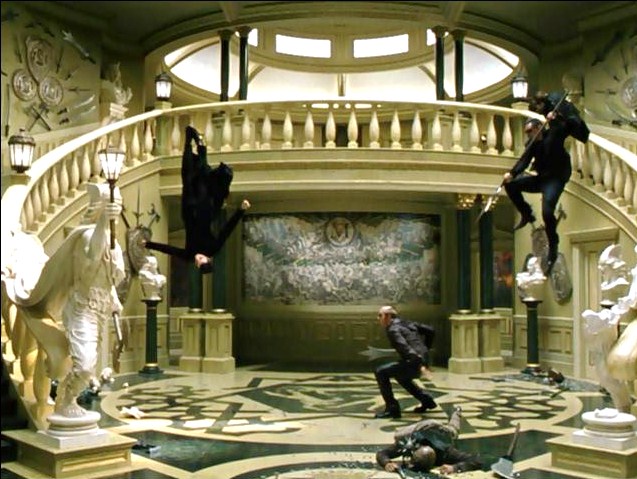 The Matrix Reloaded – The sequel to The Matrix definitely upped the ante on the already incredible stunts of the first film.  
2004
Nominees:
Troy
Spider-Man 2
Torque
The Punisher
Winner:
Bourne Supremacy – Against appearances, this is another year where it was difficult to select a winner. Torque is a crazy version of Fast and Furious with motorcycles, Troy has some incredible action set pieces, and The Punisher is an example of solid classic stunt work. However, I had to go with the Bourne sequel because its excellent chase scene elevates it above the rest of this crowd.
2005
Nominees:
Mr. and Mrs. Smith
The Island
Kung Fu Hustle
Transporter 2
Winner:
Batman Begins – Batman Begins reinvented the caped crusader in a more realistic, gritty manner. As such, the stunts were also more spectacular, and less comic book than what we had seen in the genre previously.
2006
Nominees:
Mission Impossible III
Apocalypto
Pirates of the Caribbean: Dead Man's Chest
X-Men: The Last Stand
Winner:
Casino Royale – The "new" James Bond follows in the footsteps of the "new" Batman. Grittier, more realistic. Fantastic stunts abound.
2007
Nominees:
The Bourne Ultimatum
Live Free or Die Hard
300
Rush Hour 3
Winner: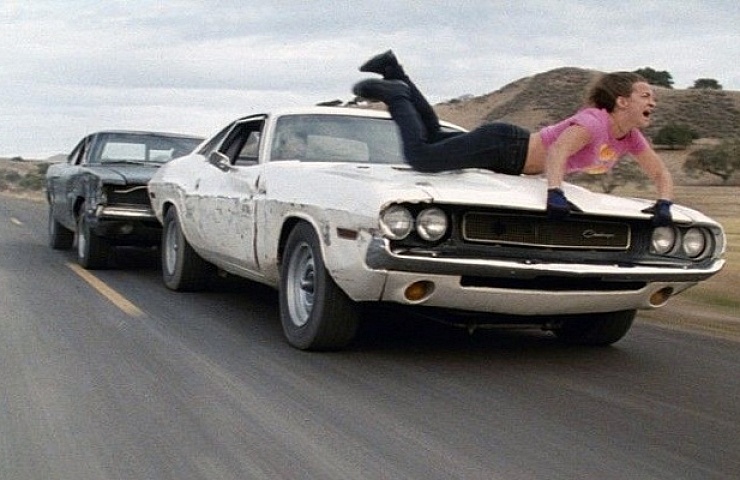 Grindhouse (Planet Terror/Deathproof) – Maybe it isn't fair to have two films with many stunts nominated as one film, but then you watch all of the dangerous stunts performed in Deathproof and you realize it doesn't matter.
2008
Nominees:
Iron Man
Taken
Wanted
Quantum of Solace
Winner:
The Dark Knight – Like all good action movie sequels, it builds on its predecessor rather than resting on its laurels – and that includes the stunt work. It also happens to be one of the most highly regarded comic book-based films ever made, a sign of a coming trend.
2009
Nominees:
Avatar
Watchmen
Sherlock Holmes
Star Trek
Winner:
Fast & Furious – Where previous films of this series had been focused on racing, this one changed it to being more stunt oriented. Granted, this was a weaker year for stunts in film, but otherwise the trailer heist scene in particular stands out from this film.
2010
Nominees:
The Expendables
The A-Team
Predators
IP Man 2: Legend of The Grandmaster
Winner: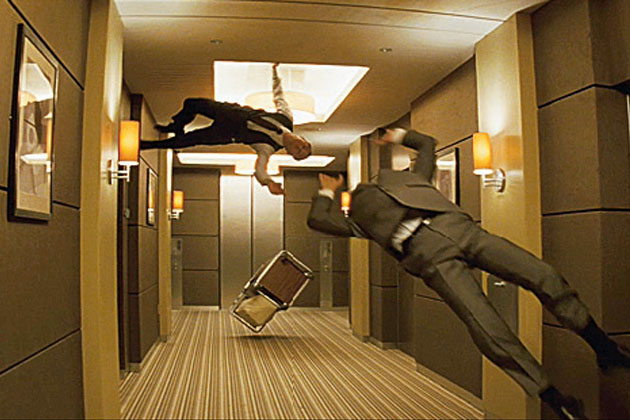 Inception – Like The Matrix, Inception changed our perception of what was possible in film thanks to creative stunt work. Also, kudos to Christopher Nolan for having three of this films achieve stunt wins – he knows how to create a realistic and entertaining film.
2011
Nominees:
Fast Five
Killer Elite
Cowboys & Aliens
The Raid
Winner:
Mission: Impossible – Ghost Protocol – This was a toss-up between the more difficult stunts in Fast Five and the flashier stunts in Mission: Impossible. Ultimately I went with Mission: Impossible because no one will ever forget that Burj Khalifa scene.
2012
Nominees:
Skyfall
The Dark Knight Rises
The Bourne Legacy
The Expendables 2
Winner:
The Avengers – The age of the superhero film has officially arrived, and it doesn't mean an overabundance of CGI. Powerful characters simply means more opportunities for kick-ass stunts.
2013
Nominees:
Kick-Ass 2
The Wolverine
Iron Man 3
A Good Day to Die Hard
Winner:
Fast & Furious 6 – Despite the generic title the stunt work in the sixth Fast & Furious film is anything but. This film is full of stunts in, around, and on top of cars. If you didn't think there could be anything more exciting done with the classic car chase, this film proved you wrong.  
2014
Nominees:
Edge of Tomorrow
22 Jump Street
Captain America: Winter Soldier
Need For Speed
Winner:
John Wick – The classic revenge movie gets revamped to deliver harder hits, amazing gunplay, and expertly executed vehicular stunts. This one's become a modern classic, and is a great example of a stunt persons' version of an action movie.
2015
Nominees:
Mission: Impossible – Rogue Nation
Furious 7
Star Wars: The Force Awakens
Sicario
Winner: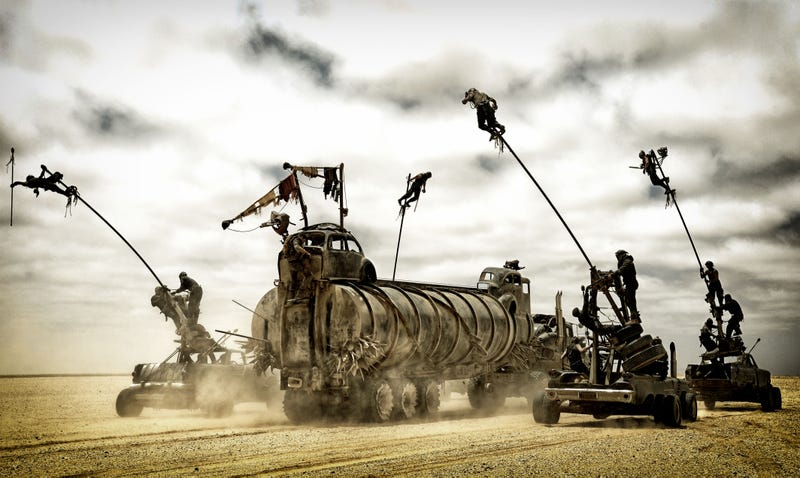 Mad Max: Fury Road – A tough year to pick a winner. In the end I have to go with the practical and brilliant creation of George Miller.
2016
Nominees:
Jason Bourne
The Magnificent Seven
Batman vs. Superman: Dawn of Justice
Hacksaw Ridge
Winner:
Captain America: Civil War – Two movies released the same year where we have major superhero protagonists fighting each other. In that battle, the MCU wins because of more actual stunt work and less CGI. It is also one of the best MCU films thanks to its confrontation-related action.  
2017
Nominees:
Wonder Woman
Baby Driver
Atomic Blond
The Fate of the Furious
Winner: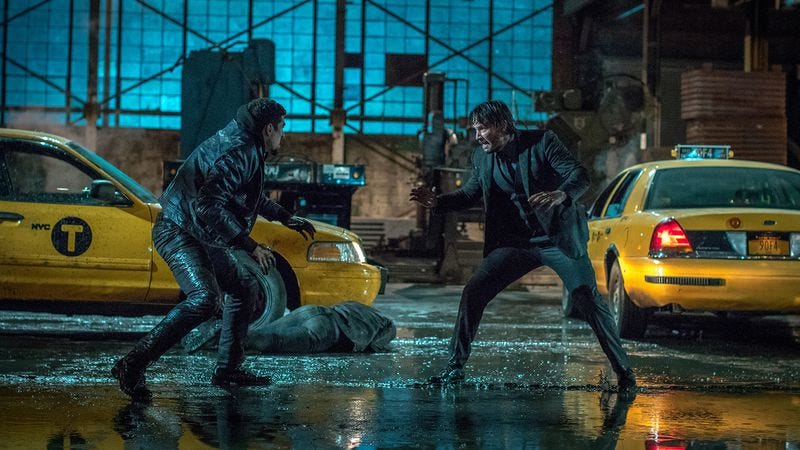 John Wick – Chapter 2  – John Wick returns with even more creative stunt work. The entire film plays like one lengthy chase sequence, and audiences are on the edge of their seat because of how raw and realistic it feels.
2018
Nominees:
Venom
Ant Man and the Wasp
Black Panther
Aquaman
Winner:
Mission: Impossible – Fallout  – The superhero craze is in full control, but it is the only non-superhero nominee which gets the win. A combination of incredible stunts and great cinematography to bring them to life makes the best Mission: Impossible film yet a stunt work masterpiece.