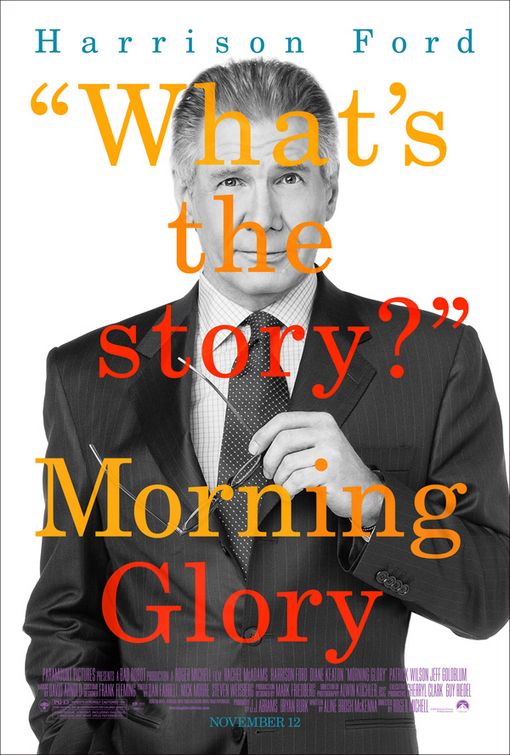 10. Morning Glory $4.03 million
Thanksgiving may be the last gasp for Glory, which failed to find a wide audience at theaters. If the film was looking to woo working women, it failed miserably, with just over $25 million in total receipts. The comedy didn't flop as badly as Ford's last film, Extraordinary Measures, but the actor hasn't had a non-Indiana Jones film make $100 million in over a decade (2000's What Lies Beneath).
9. The Next Three Days $4.8 million
It seems a lot of Hollywood's A-list actors have bombed at the movies lately. Russell Crowe can now join the list. In only its second week, the movie is struggling just to stay in the top ten. The teaming of Crowe and writer/director Paul Haggis didn't seem to work out too well.
8. Due Date $7.3 million
This year's Hangover is still bringing in moviegoers, but it won't reach Hangover-type receipt levels. Still, $85 million so far is nothing to sneeze at either.
7. Faster $8.7 million
The Rock, or Dwayne Johnson now that he's a legitimate actor, has yet to really score as an action star since The Scorpion King. Faster doesn't look particularly compelling, and the generic title doesn't inspire anyone past hardcore male wrestling fans to buy a ticket. Just pray he doesn't do another family film. He really needs to find the right director, like Schwarzenegger did with Cameron.
Then again, if I had known beforehand that Maggie Grace and Moon Bloodgood were in this film, I might have gone to see it. Or at least Redbox it eventually.
6. Love and Other Drugs $9.85 million
I was surprised this film was rated R, because romantic comedies with that rating rarely succeed. That looks to be the case here as well, as the star power of Gyllenhaal and Hathaway wasn't enough to bring in audiences. Anyone else find it kind of weird that Anne Hathaway seems so willing to strip and show off her Princess Diaries at the drop of a hat?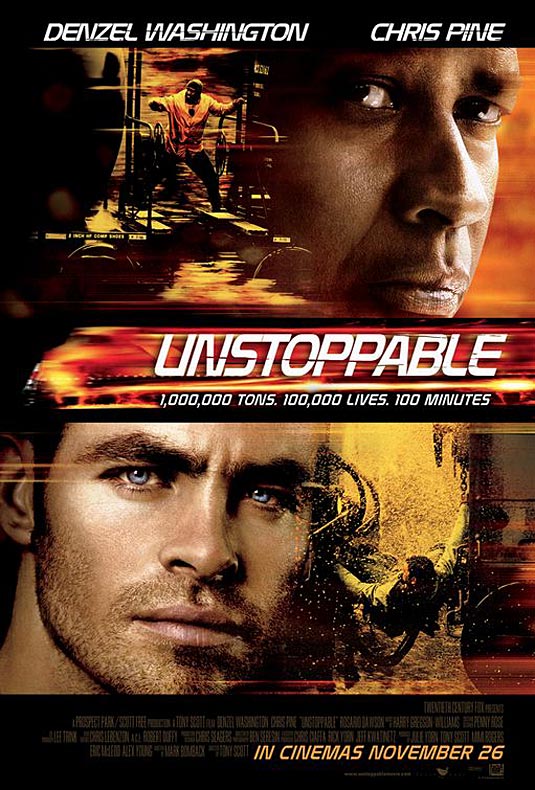 5. Unstoppable $11.75 million
Denzel Washington' runaway train flick dropped less than 10% in ticket sales from the week before, a sign that audiences are still being drawn in and word of mouth is good. With no other real action films to compete against it, Unstoppable should keep chugging along at theaters.
4. Burlesque $11.8 million
Screen Gems, the studio behind Burlesque, was probably hoping for Chicago-type success, but may end up in Showgirls territory instead. While it may not be the epic fail that film was, Burlesque has been ravaged by critics, and despite a decent opening, I can't see this film going anywhere. Besides, how many people will actually pay to see the wax museum figure that is Cher on a giant screen?
3. Megamind $12.85 million
Is Dreamworks the new Disney? The CGI animation studio has certainly outperformed The House of Mouse at the box office in recent years, but whether Shreck or Megamind ever achieve that classic status Disney films enjoy remains to be seen. Timeless or not, at least Megamind is entertaining.
2. Tangled $49.1 million
Sure, Tangled may be charming and fun, and I like Zachary Levi getting to show off his talents, but the movie bothers me. First, I prefer the original title, Rapunzel, instead of the post-modern attempt at hipness Disney chose with Tangled. I also hate the idea that Disney is doing CGI movies now because they are cheaper to make, and closed their traditional animation studio. Walt would never had accepted such a thing. Let Pixar handle CGI, since they can do it well. Maybe I shouldn't hold that against Tangled, but still, I had to let that out.
1. Harry Potter and the Deathly Hallows, Part I $50.34 million
Hurricane Harry continues to steamroll the box office. With over $220 million in ticket sales in the United States alone, Mr. Potter could cure the recession if he wanted to. At least the kids are happy and reading his books, and that's what counts, I suppose.
Source: Box Office Mojo