Audrey Hepburn is recognized for her leading actress performances in a number of classic films during Hollywood's Golden Age, but was also famous for her work as a dancer, fashion icon, and humanitarian. During her four-decade career in film, she became one of the most successful actresses of all time. Hepburn has acted in twenty feature films, with the heydey of her career  occuring during the 50's and 60's. Her films such as Roman Holiday, Sabrina, Funny Face, Breakfast at Tiffany's, My Fair Lady, Charade, and How to Steal A Million are all considered classics, and Hepburn is appreciated for bringing an element of class and grace to them all.
She made a name for herself by creating likable and strong-willed female characters in comedies, dramas, adventures, musicals, and romance films. In many ways she came to represent the glamour of Hollywood in its most glamorous era because of her sense of style and her on and off-screen etiquette. She received an Academy Award nomination for best actress for her first starring role in a feature film, Roman Holiday. Over the following two decades she and would be nominated for four more Oscars, but never won for a performance. Today Hepburn is one of only 14 people to have been given EGOT honors – referring to someone who has won an Emmy, Grammy, Oscar, and Tony award. But sadly this fete was not accomplished until after her untimely death in 1993. In her later years she was recognized for her efforts as a Goodwill Ambassador for UNICEF, travelling the world to raise money and awareness for children living in poor conditions.
Of course, Audrey Hepburn's success didn't happen over night. It was the result of a lot of hard work, determination, and some good fortune. This is the story of how Hepburn got her start in the film industry and how the 1953 film Roman Holiday made her incredible career possible in the first place.
In The Beginning…
Hepburn was born in 1929 in near Brussels to a Dutch mother and English father. He mother and father were actually fascists, a truth that would be hidden from the public as she became a star. In England they were followers of Sir Oswald Mosely, a man who was trying to spread Hitler's ideas into England. They joined a tour of Germany to observe what the Nazi's had accomplished, and had even had the opportunity to meet Hitler himself. Meanwhile, Hepburn attended a boarding school in Holland. In 1936, one of the most tragic events of Audrey's life occured. Her mother and father had an argument and her father walked out on the family, leaving Audrey, her mother, and her brothers to fend for themselves. During WWII, Audrey's father would be imprisoned because of his activism and Audrey wouldn't see him again for two decades.
Audrey attended a boarding school in England in order to help her learn the language, and in 1940 after the outbreak of WWII her mother recalled her to the Netherlands. Her mother had thought that since Holland would remain neutral it would be safe for them there. However, the Nazis invaded anyway and Audrey and her family would endure all manner of hardships until the country was liberated by the Allies in 1945. Food shortages led to terrible famines, and Audrey later claimed that her family had to resort to eating tulip bulbs to stay alive. During this time, Audrey became interested in music and dancing as a way to help take her mind off of the circumstances, but because of the materials shortage her mother had to make her shoes out of scraps of felt. She later recalled performances in houses with curtains drawn and doors shut where the audiences would not clap because they did not want to draw the attention of the Nazis. During this time, Hepburn assisted the resistance by being a letter courier. Children were often used because they would not be searched by the Nazi guards. All of these experiences had a profound effect on Audrey and would be the inspiration for her work with UNICEF later in her life.
Starting a Career…
After the war ended, Hepburn went to ballet school in London on a scholarship. Although she had plenty of talent, her slight stature became a hindrance to becoming a prima ballerina. The malnutrition that she had endured during the war had stunted her growth, and so she began to focus on modeling and later acting. As a model she began getting noticed. She earned her first role in a film, playing an air stewardess in an educational film about travel. In 1948-1950 she appeared as a chorus girl in several productions at the Cambridge Theater in London. During this time she took lessons to enhance her English speaking, and was later registered as a freelance actress with the Associated British Picture Corporation.
Her official title as an actress allowed her to work for the BBC, where she was featured in a teleplay, and then later had small roles in a number of films. In 1951 she earned her first supporting role in a feature film titled The Secret People where she played a ballerina, performing all of her own dance scenes. Later that year she was modeling/acting in the French Riviera when she was discovered by Collette, the author of the 1944 novel Gigi. Collete was staying at the same hotel in which Audrey was filming, and cast her on the spot in the lead role of the Broadway adaptation of her book. The play was a huge hit, and earned Hepburn a number of accolades. The play ran for more than 200 performances before going on tour until May of 1953.
The Breakthrough…
Frank Capra (It's a Wonderful Life, Mr. Smith Goes to Washington) had been trying to make Roman Holiday in the 1940's as a quick and inexpensive romance flick. He had chosen Cary Grant as his star, and wanted Elizabeth Taylor to play his love interest, a princess. However, at the time Grant was in his 40's and Taylor was not yet 18 years old. Grant turned down the role because he thought he was too old and didn't want to do a low budget movie (and also Dalton Trumbo was a writer on the film, and Grant didn't want to be associated), and so the film was shelved. William Wyler took over, casting Gregory Peck in the lead role. Wyler had found Audrey Hepburn and invited her for a screen test for the role of the princess. Wyler had to leave during the interview, but instructed his assistant director to keep filming her after the scene was complete. When Wyler saw Hepburn's personality when she was at ease, he knew he had the perfect costar for his film.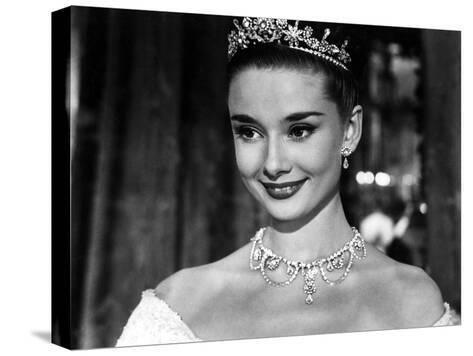 The studio was also very impressed with Hepburn and they agreed to wait for her to be available because she was performing Gigi at the time. The production of the film began less than a month after Gigi's tour ended. It turned out that the wait was worth it. The film was a hit, and audiences fell in love with Hepburn. For her performance, she was nominated for an Academy Award, and co-star Gergory Peck agreed to split the lead billing because he knew she would be a star. For many Americans, Roman Holiday was their introduction to Audrey, and they fell in love with her. Wyler would go on to work with Hepburn for three other films after the success of Roman Holiday. Paramount signed her to a 7 film contract, allowing time between films for stage work if she so desired. In 1953, Hepburn was featured on the cover of Time magazine, unofficially announcing her arrival to the Hollywood movie scene.
Check out last week's story: Career Breakthroughs: Bruce Willis
References:
https://www.biography.com/news/audrey-hepburn-facts-biography
https://www.audrey1.org/biography/7/short-biography-of-audrey-hepburn
https://www.express.co.uk/news/history/556737/The-early-life-of-Audrey-Hepburn