Samuel Leroy Jackson plays characters with opinions, attitudes, and swagger. His oversized personality comes through on the big screen in a way that makes you sit up straight and take notice. Whether he's playing a bit part in a crime drama, or the star of an action-comedy, there are few other actors that can make the type of impression that Samuel L. Jackson does. His most famous roles have transcended the movie theater to become icons in pop culture. Think of Jules in Pulp Fiction, Nick Fury in the MCU, Neville Flynn in Snakes on a Plane, Arnold in Jurassic Park, Zeus Carver in Die Hard with a Vengeance, Mace Windu in the Star wars prequels, or even his voicework as Frozone in The Incredibles films. Jackson has collaborated with many influential filmmakers including Spike Lee, Quentin Tarantino, Martin Scorsese, and M. Night Shyamalan. He received a star on the Hollywood walk of fame in 2000.
Besides his boisterous on and off screen persona, Jackson is also known as being one of the hardest working actors in Hollywood. He has been featured in more than 160 films since his debut, and is averaging a role in 4 films per year since 1994. Partly due to his prolific work habit, Samuel L. Jackson is the current world record holder for the actor with the highest total box office gross, at over $7 billion currently. His career started with bit roles (sometimes in high profile films) often being typecast as a character involved with crimes, gangs, or narcotics. However, his personality and wit caught people's attention and eventually he found a greater variety of roles available to him. However, he didn't earn widespread notoriety until his late 40's, making him a "late-blooming" star, which is very atypical in Hollywood.
Of course, Jackson's success didn't happen over night. It was the result of a lot of hard work, determination, and some good fortune. This is the story of how he got his start in the film industry and how the 1994 film Pulp Fiction made him a star.
In The Beginning…
Samuel Leroy Jackson was born in 1948 in Washington D.C., but was raised by his grandparents and mother in Chattanooga, Tennessee. He had only met his father twice during his lifetime. Growing up, Jackson attended segregated schools. From a young age he was interested in film and would attend a local theater frequently. However, films at the time were often edited for a black audience, and this experience would be something that would influence his decisions growing up. He had a stuttering problem and realized that when he pretended to be someone else, he could make his stutter go away. To this day he still struggles with his stutter, and his famous swear word is one way he helps to cope with it.
Jackson graduated from Riverside High School in Chattanooga, and then decided to attend the historically black Morehouse College in Atlanta to study Marine Biology. Around this time, Jackson also began getting involved in the civil rights movement. In 1968 he attended the funeral of Dr. Martin Luther King Jr. as an usher. Afterwards he flew to Memphis to take part in a protest march. The following year, there was a protest at his college against the fact that the Board of Trustees were all white and did not represent the student body. A group of students, including Jackson, locked Board members inside the school. Jackson was charged with a second-degree felony and was suspended from the school for two years. He joined the Black Power movement, but his mother became concerned for his safety and sent him to Los Angeles where he found employment as a social worker. Once he was reinstated at Morehouse, he returned to finish his college. He joined a local acting group for extra credit in one of his classes, and found that he really enjoyed it. After this experience, he changed his major to acting. During this period he acted in a number of plays, and started his own theater group before graduating in 1972.
Starting a Career…
Jackson's first feature film was the 1972 blaxploitation film Together for Days. He joined the Black Image Theater Company along with his future wife. As part of this group they toured the country performing politically and socioeconomically-charged skits. In 1976, he and his wife moved to Harlem to try and further his acting career. He acted in several off-broadway plays during this time, and found work in several TV movies. He even was employed as a stand-in for Bill Cosby on the Cosby Show. During this time, Jackson began to struggle with alcoholism and drugs, which began impacting his career. Two of the plays that he had participated in had found a lot of success and moved to Broadway. However, Jackson was unable to participate because of his personal issues, and was replaced.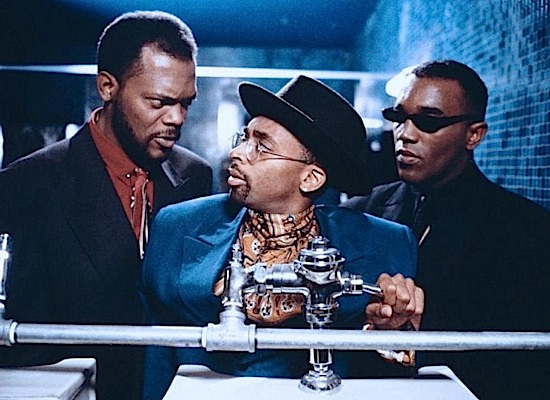 Fortunately, Jackson's luck soon turned around. In 1981, while he was working on A Soldier's Play he met both Morgan Freeman and Spike Lee. Freeman and Jackson became good friends, and Freemen encouraged Jackson to keep pursuing his dream of becoming a respected actor who would transcend racial typecasting (at the time the only movie roles he could find were bit parts as gangsters). Spike Lee enjoyed Jackson's enthusiastic performances and invited him to appear in some of the films he was planning. Jackson agreed and was featured in several of Spike Lee's early films, including School Daze, Do the Right Thing, and Mo' Better Blues. However, while working on these films, Jackson's drug and alcohol problem only worsened. He overdosed on heroine several times before switching to cocaine. His family was concerned and sent him to rehab in New York.
The Breakthrough…
Only two weeks after completing rehab, Jackson filmed the role of a crack cocaine addict in Spike Lee's 1991 film Jungle Fever. That role earned him significant critical acclaim. At the Cannes Film Festival where the film was shown, the performance was so impactful that the judges created a new award category for Supporting Actor just to recognize Jackson's performance. For Jackson himself, the experience was life-changing and caused him to give up drugs completely. After Jungle Fever, Jackson found more opportunities to work in film. He acted in Juice, Patriot Games, and White Sands before landing his first lead role in National Lampoon's Loaded Weapon 1 in 1993.
However, it wasn't Jackson's first star role that lead to fame in the mainstream. Actually, it was another bit role as a gangster. This time, he played a supporting role in True Romance, which was written by Quentin Tarantino and directed by Tony Scott. Tarantino appreciated Jackson's performance in the film and decided to write a role for him in his next movie. That next movie was Pulp Fiction. Jackson was taken aback by the fact that Tarantino had written the role specifically for him, and he agreed to work on the film. Pulp Fiction became a hit with audiences and critics, and Samuel L. Jackson earned significant praise for his performance as Jules. In fact, he was nominated for an Oscar for Best Supporting Actor for his efforts. At the time, Jackson was 46 years old, and Pulp Fiction was his 30th screen credit. It proved to be the breakthrough that he had long sought, and opened the doors to a very sucessful career full of even more diverse roles.
Check out last week's story: Career Breakthroughs: Audrey Hepburn
References:
https://www.biography.com/people/samuel-l-jackson-9542182
https://www.britannica.com/biography/Samuel-L-Jackson
https://www.moviefone.com/2014/04/04/samuel-l-jackson-facts/