First up…
Contestant #1: Harry Potter and the Deathly Hallows
Synopsis: It's been a year since Professor Dumbledore's death, and since then, Lord Voldemort has risen to power. Now Harry, Ron, and Hermione find themselves the last hope for not just the wizarding world, but the Muggle world as well. Time's running out for the trio, but will they be able to stick together until the very end, or will the stress of the war tear them apart?
In Five Words: Potter and Friend's Horcrux Vacation
Trailer:
Cast:
Daniel Radcliffe as Harry Potter
Rupert Grint as Ron Weasley
Emma Watson as Hermione Granger
Ralph Fiennes as Lord Voldemort
Alan Rickman as Severus Snape
Crew:
Director–David Yates
Writer–Steve Cloves
Based on the Book by J.K Rowling
Theater Count: 4,125 theaters
Critics Say:
"Even though it ends in the middle, Deathly Hallows: Part 1 finds notes of anxious suspense and grave emotion to send its characters, and its fans, into the last round." A.O Scott, New York Times
"Drags a bit in the second act, but it's a solid buildup to the final chapter in this legendary franchise." Richard Roeper, RichardRoeper.com
"Yates and screenwriter Steve Kloves have done a fine job of building up a big, black foreboding cloud in this next-to-last installment." Andrew O' Hehir, Salon.com
Rotten Tomatoes Critics' Consensus: "It can't help but feel like the prelude it is, but Deathly Hallows: Part I is a beautifully filmed, emotionally satisfying penultimate installment for the Harry Potter series."
Rotten Tomatoes Score: (As of Friday, November 19) 78%
Metacritic Score: (As of Friday, November 19) 68 out of 100
Viewers Say:
IMDB Users Score: 8.3 out of 10 (4,475 votes)
Rotten Tomatoes User Score: 90% (Out of 154,862 votes)
TMP Says:
Harry Potter is about to end.  This 9 year old movie franchise has had its ups and downs, but this is truly an event.  In the trailers for the film, they called it "The Motion Picture Event of the Generation."  Well I wouldn't go that far, it's still a pretty big deal.  If you have any interest in Harry Potter at all, you owe it to your self to see it.  And well most are just calling it the prelude it is, that doesn't mean it's not worth seeing.
The Edge: The exact definition of an "Event" picture, need to be prepared for Part Two, Harry Potter is a mostly reliable franchise.
The Sharp End: In terms of Harry Potter, this one's reviews are on the low end, placing second overall to Order of the Phoenix in terms of mediocrity.
Showdown Score: 5 out of 5
Overall: Harry Potter and the Deathly Hallows: Part One is a MUST SEE THE FIRST CHANCE YOU GET.
Next up..
Contestant #2: The Next Three Days
Synopsis: After the false imprisonment of his wife, John Brennan's life falls apart. In a desprete bid to once again acheive normalacy and to save his suicidal life, Brennan plans an eleberote breakout attempt, risking everything in his life to save the woman he loves.
In Five Words: Prison Breakout by Paul Haggis
Trailer:
Cast:
Russell Crowe as John Brennan
Elizabeth Banks as Lara Brennan
Liam Neeson as Damon Pennington
Olivia Wilde as Nicole
Brian Dennehy as George Brennan
Crew:
Director–Paul Haggis
Writer–Paul Haggis
Theater Count: 2,564 theaters
Critics Say:
"It's laughably, eye-rollingly absurd, so you don't watch it and wonder, "Hey, why not?" You endure it and wonder, "So … why did they do that?" Joe Naumaier, New York Daily Nes
"The Next Three Days wants to be clever. It wants to be taut and suspenseful, tricky and exciting. To be fair, the movie manages to conjure small moments of all those things. But by the end, it's succeeded at none of them." Tom Maurstad, Dallas Morning News
"It's damn hard to enjoy a thriller when you don't, won't, can't believe a word of it." Peter Travers, Rolling Stone
Rotten Tomatoes' Critical Consensus: "Russell Crowe and Elizabeth Banks give it their all, but their solid performances aren't quite enough to compensate for The Next Three Days' uneven pace and implausible plot."
Rotten Tomatoes' Score: (As of Friday, November 19) 42%
Metacritic Score: (As of Friday, November 19) 51%
Viewers Say:
IMDB Users Score: 7.2 out of 10 (284 Votes)
Rotten Tomatoes' Users Score: 65% (8519 Votes)
TMP Says:
I saw the trailer for this film and thought, "Wow, that looks really good."  Then half way through it, the words "Paul Haggis" flashes through the screen.  And that only made me more excited.  The genius behind the cinematic excellence that is Crash! Heck yeah!  There's no way this movie could be flawed in logic, or have a sucky script!  That just couldn't be!  Because…it's the sense of touch…OK, I can't keep this up anymore.  Crash is lame, and so is Paul Haggis.  I got you for a moment, didn't I?
The Edge: Russell Crowe and Liam Neeson are good actors, an interesting trailer.
The Sharp End: Paul Haggis.
Cinema Showdown Score: 3 out of 5
Overall: Paul Haggis takes this film down…a lot.  The Next Three Days is a DVD RENTAL AT BEST.
And the Pick of the Week is…
HARRY POTTER AND THE DEATHLY HALLOWS: PART ONE
This Pick of the Week is rather obvious.  So obvious, in fact, that I don't even feel obligated to explain it.  Call it a cop out, or me being lazy, whatever.  The point of the matter is, when your only competition is a Paul Haggis film, you're always going to win.  Always.
So congratulations, Harry Potter and the Deathly Hallows: Part One.  Use the weekend grosses to get WB another cash cow.  Because in a years time, they're going to be down one.  Sigh…I guess they always have Batman.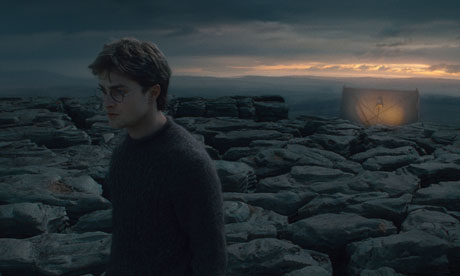 Well this week was rather slim pickings, next week will be an insane Thanksgiving weekend.  You got Disney's new animated film, a musical from Cher and Christina Aguilera, a rom-com from Anne Hathaway, and The Rock's new action film.  Check back next week to see which one is worth it.  Until then, I wish you luck in your weekend movie watching endeavours, and may the cinema gods be with you!