10. The Lobster
Yorgos Lanthimos wry absurdist masterpiece about a near-future society where those who are still single must find a partner or be turned into an animal at the end of a 45-day stay at a hotel from hell. Colin Farrell gives a career best in this under seen indie.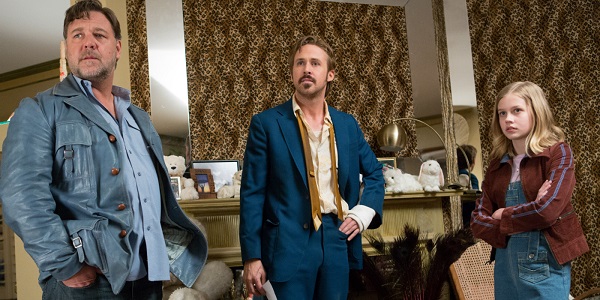 9. The Nice Guys
A 1970s neo-noir throwback courtesy of master scribe Shane Black. The talk of the town may be Ryan Gosling and Emma Stone's chemistry, but his screen time with Russell Crowe is magnetic. These two play private detectives whose work overlaps when they team up to crack a case in 1970s Los Angeles in what is surely the funniest film of the year.
8. Hell or High Water
After a long and somewhat painful summer at the movies, Taylor Sheridan's 2012 blacklist script finally came to life courtesy of Scottish director David Mackenzie. Set in post-recession West Texas, the film is a meditation on a broken bank system, family and morals, all with a little breathtaking violence on top.
7. Hacksaw Ridge
Part Frank Capra cheese, part pulsing war violence, Hacksaw Ridge is the incredible true story of Desmond Doss—the conscientious objector who saved the lives of nearly 100 men without a weaponin World War II Japan. The first 45 minutes of cheesecake good-ole-boy is starkly contrasted by some of the most breathtaking war footage ever recreated—and that's no accident.
6. Moonlight
Barry Jenkins' beautiful coming-of-age masterpiece tells the story of Chiron in three parts played by three actors at different stages of life: child, teenager, adult. All three embody this character in a profound and beautiful way. It moves slow, but rewards you with a bleeding humanity that's lost from most film nowadays.
5. The Handmaiden
Park Chan-wook is back with another masterpiece under his belt. The Handmaiden is intoxicating from start to finish with a few twists and turns, cringe worthy violence, erotic sex, and at the heart of it a very sweet love story.
4. Manchester By The Sea
Grief, loss, family, responsibility, profound sadness…all with a heavy dash of humor. Kenneth Lonergan's beautiful masterwork is a simple story of a man who becomes guardian of his late brother's teenage son. There's plenty stewing below the surface that's ready to move you, and by the end you'll wonder if we backed the wrong Affleck brother.
3. Jackie
I gushed about it in my review, and continue to think about Natalie Portman's beautiful performance as Jackie Kennedy as she processes the trauma of sitting next to her husband, president JFK, as he was murdered. The film also explores Jackie's moves to make sure her husband's legacy was cemented into the history books after his presidency was cut short.
2. Silence
When I first started visiting movie blogs in 2001, I remember reading about Martin Scorsese's Silence, and how even then it was a long gestating passion project. Fifteen years later, it's finally hit our eyeballs, and it was worth the wait. A quiet and violent meditation on faith and religion based on the 1966 novel from Shusaku Endo. A tale of two Jesuit priests spreading Catholicism whilst on a search for their missing mentor in 17th century Japan, Silence will rank among Scorsese's best as he begins to close out his remarkable career.
1. La La Land
For the most part my top ten has been a bit of a downer; a lot of the year's finest films were weighty and filled with grief, violence, and sadness—suitable for this tumultuous 2016. But Damien Chazelle is here with his colorful, whimsical tale of love, hope, dreams, and heartbreak in the business of show. A struggling actress and musician cross paths in an instant classic with music that will be the soundtrack to your 2017. An ode to musicals of old, but with a message we all desperately need: dream, especially if it feels foolish.
Ten More…
Captain Fantastic
Rogue One: A Star Wars Story
Arrival
Hail, Caesar!
Kubo and the Two Strings
Green Room
OJ: Made in America
The Witch
The Invitation
Weiner