Although ultimately important, politics can lead to conflict and stress. Also, bureaucracy in action can be just plain boring. Thankfully, when Hollywood makes films about politics, they tend to be exciting, thought-provoking, and empowering. Full of juicy conspiracy theories, shedding light on real life events, and empowering the viewer to make a difference in the world around them, political thrillers are an important and entertaining sub-genre.
To help get your mind off of the turmoil that is election day, I put together this list of the best political thrillers. To be considered for this list, I tried to only consider films where the politics are the main motivation for the films' plot. Here, I define politics as a struggle for power on a large scale. I decided that the film cannot be a crime thriller (which eliminates Mississippi Burning), can't be dystopian fiction (eliminates V for Vandetta), and the investigation of political intrigue has to be the main purpose of the film, not just part of it (eliminates "historical reenactment" movies like Lincoln, Bridge of Spies, etc.).
Let's get started!
---
10. In the Line of Fire (1993)
Rotten Tomatoes "Approval" Meter = 96%
Director: Wolfgang Peterson
Cast: Clint Eastwood, John Malkovich, Rene Russo, Dylan McDermott
This film is the 1990's version of the 70's political thriller – when the genre really hit its stride and found an audience. It's not overblown with action, doesn't foray far from believable for the sake of entertainment, and remains fiercely committed to logic. Not all political thrillers have those qualities, and when they do they are rarely this entertaining. Plus, any movie where John Malkovich plays the bad guy, and Clint Eastwood plays the good guy, is a win in my book.
---
9. The Day of the Jackal (1973)
Rotten Tomatoes "Approval" Meter = 90%
Director: Fred Zinnemann
Cast: Edward Fox, Michael Lonsdale
The Day of the Jackal is considered one of the best book-to-screen adaptations of all time. Full of intrigue, interesting characters, and high stakes, this one keeps you on the edge of your seat. While it does lean more towards the spy thriller, it is full of political ramifications and is motivated by events on a world stage. Furthermore, its method of demonstrating two perspectives which only converge at the very end is innovative and makes the films' plot more engaging.
---
8. The Parallax View (1974)
Rotten Tomatoes "Approval" Meter = 93%
Director: Alan J. Pakula
Cast: Warren Beatty, Paula Prentiss, Hume Cronyn
Politics and conspiracy theories tend to go hand in hand, and this is the ultimate conspiracy-theory fueled political thriller. While not as exciting or prestigious as the films on this list that ranked higher, it makes up for it with a charismatic Warren Beatty and impeccable direction. And since paranoia will seemingly never stop being a part of our modern political process, the ideas behind this film will surely stand the test of time.
---
7. Three Days of the Condor (1975)
Rotten Tomatoes "Approval" Meter = 86%
Director: Sydney Pollack
Cast: Robert Redford, Faye Dunaway, Cliff Robertson, Max von Sydow
So Three Days of the Condor may not be the most critically acclaimed or notable film on this list, but it is in many ways a quintessential political thriller. It does what good political thrillers are supposed to do best; take a potentially deathly-serious topic and distill it down to become cinematically engaging, and fun to watch. This film's cause is also helped by the fact that it has many acting legends in its cast, and the director knows what he is doing. For a slice of 1970's American political thriller (the juiciest variety), look no further.
---
6. Notorious (1948)
Rotten Tomatoes "Approval" Meter = 97%
Director: Alfred Hitchcock
Cast: Cary Grant, Ingrid Bergman, Claude Rains
Perhaps Alfred Hitchcock's best early film, and certainly his most commanding as director. It says something when a cast with such iconic stars like Cary Grant and Ingrid Bergman play second fiddle to the proficiency of the production. And unlike the other films on this list, this one plays as a romance. Forbidden love is always an engaging topic, even more so when you add the weight of political burden.
---
5. Zero Dark Thirty (2012)
Rotten Tomatoes "Approval" Meter = 95%
Director: Kathryn Bigelow
Cast: Jessica Chastain, Jason Clarke, Mark Strong, Kyle Chandler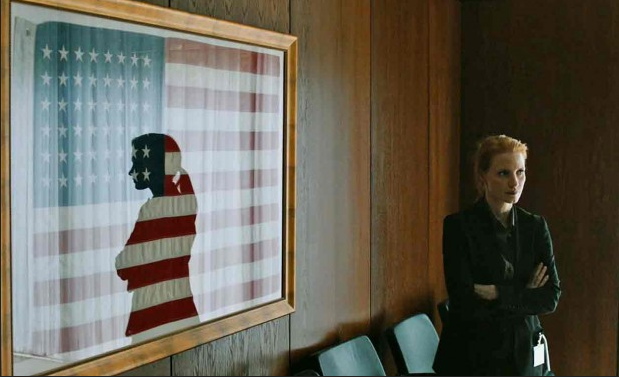 More than just a story about how they found and killed Osama Bin Laden, Zero Dark Thirty is the pinnacle of post-9/11 cinema. 9/11 cinema focused on the political climate in the aftermath of the 9/11 terrorist attacks, specifically how governments respond to evolving types of threats against its peoples. In addition to Jessica Chastain's impressive performance, the film features gripping direction and a sense of controversy and danger that makes it impossible to turn away.
---
4. Z (1969)
Rotten Tomatoes "Approval" Meter = 93%
Director: Costa-Gavras
Cast: Jean-Louis Trintignant, Yves Montand, Irene Papas
This film, about uncovering a political assassination in Greece, caused its director, writer, composer, and one of its actors to be banned from the country. That fact alone states how controversial, impactful, and influential this film is. And while it may be about a Greek situation, the events here are not unlike what unfolds clandestinely elsewhere around the world. It speaks about the power of politics, for better or for worse.
---
3. All the President's Men (1976)
Rotten Tomatoes "Approval" Meter = 93%
Director: Alan J. Pakula
Cast: Robert Redford, Dustin Hoffman, Jack Warden, Hal Holbrook
This Oscar-winning adaptation of the book which detailed the discovery of the watergate scandal is considered to be among the best movies ever made about the American political system. It's a champion for free press and the investigative style makes the audience feel like they are the ones unraveling the scandal. Expertly acted and produced, this film is as much an apt account of one of the most turbulent periods of American politics as it is a powerful word of caution for future generations.
---
2. The Manchurian Candidate (1962)
Rotten Tomatoes "Approval" Meter = 98%
Director: John Frankenheimer
Cast: Frank Sinatra, Laurence Harvey, Angela Lansbury, Janet Leigh
On paper, the premise of The Manchurian Candidate may seem like a sort of dystopian fiction. Desperate political powers acting in the shadows against eachother, and no tactic is too far. But realize how brainwashing isn't much different than the desperate bipartisanship we see in today's troubled political environment, and you'll see how this film isn't just a cautionary tale. It is the truth about mankind's quest for power in a world fractured by hate and fear.
---
1. Mr. Smith Goes to Washington (1939)
Rotten Tomatoes "Approval" Meter = 95%
Director: Frank Capra
Cast: James Stewart, Jean Arthur
When a movie about politics made 80 years ago still resonates, it says a lot about how little things have changed in regards to how the government operates. It's a shock perhaps, an admission that our beloved system is inherently flawed and there is very little we can do about it. Mr. Smith Goes to Washington is one of the greatest movies ever made because it is so effective at breaking your heart. It explains the cold truth, but in a way that stays with you long after. It is inspirational, especially the performance of James Sewart, which is frankly one of the best performances in film ever. The best films ever made are the ones that are impactful, and after 80 years, Mr. Smith Goes to Washington is no less impactful than the day it was released.