I have to say this first.  I'm greatly dis-heartened by the shear amount of Twilight themed carved pumpkins I found while searching the internet for this article.  It really broke my heart and made me sad (especially because they weren't that great).  Nevertheless, I persevered and dug up some truly awesome pictures.
This one isn't as instantly recognizable as the others in here, but if you did, you're probably a big nerd (that's okay, I am too).  It's the writing on the One Ring from Lord of the Rings, intricately carved into a pumpkin.  One thing is for sure, this took a far steadier hand than I could ever have.
I went to art school, and I know people that can't draw this good on paper let alone a vegetable.  This is detailed and altogether a pretty sexy representation of the venerable Jedi Master.
I really thought about saving this for last…I mean look at it!  That's freaking awesome.  This is a full blown Predator sculpture, and one that's beautifully detailed.  I mean, could you imagine having this sitting on your front porch?  Mothers would be terrified to send their kids up to trick or treat.
Evil Dead pumpkin…Need I say more?
I highlighted this one for the amount of detail it has.  Much like the Yoda one, the carver's ability to create the illusion of shadows and lines on the metal suit are pretty impressive.
Okay, this one isn't exactly a movie one (it's based on the comic that was turned into a movie), but it's hard to deny how awesome these Scott Pilgrim pumpkins look.
All you need now are X-Wing and TIE fighter shaped gourds and you're good to go!
This one is far simpler than most of the others I've highlighted so far, but there's something classic in this display of an iconic character from our childhood.
I had to highlight this one, for it's creative use of more than one pumpkin.  It's not nearly as detailed or intricate as the others, but it's still a pretty neat display of Iron Man geekiness.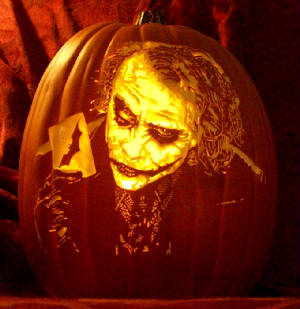 There are quite a few Batman pumpkins floating around on the internet, but this was one of the most interesting.  Great details and an iconic character equals pumpkin beauty.
Well we had the incredible Predator pumpkin, but to round things off you really need his archenemy: the Aliens.  Just don't put them together on the same porch.  They may be awesome separately, but for some reason together, they fail….
I'm sure there are lots more awesome looking pumpkin carvings out there with movie themes.  So if you come across any we'd love to have you share them with us in the comments below!  Who knows, maybe this will inspire you to try out your own pumpkin carving artistry, and if it does, we want to see them.
-Jordan