*** Warning! This Article Features Spoilers (Mission: Impossible – Fallout excluded) ***
Mission: Impossible is a fitting name for a franchise that prides itself for having its characters complete seemingly impossible fetes. What started as an espionage thriller has become a major action movie franchise that revolves around an elite operative (Ethan Hunt) who partakes in some of the most difficult missions imaginable. The films offer us the fun gadgetry and adventurous world-saving antics of James Bond, but combined with the hard-hitting and brunt-force tactics of Jason Bourne. To celebrate all of the thrills that the Mission: Impossible franchise has brought us, I decided to rank its best moments ("missions") in terms of the challenges that the characters have to overcome on screen.
I considered a "mission" as any sequence in one of the films having a specified security-related goal that the character(s) work to achieve. For example, I did not consider the opening rock climbing sequence or the car race flirtation from M:I 2 as missions because they didn't really have anything to do with Ethan Hunt's profession. While many of the missions end up being accomplished, they never go exactly as planned. In fact, the way that the characters navigate the unforeseen complications that come up along the way to completing the mission is what makes this franchise so fun to watch. That improvisation aspect is part of the thrill of Mission: Impossible. In that regard, I made my rankings based on the following criteria for each "mission":
Complexity/Amount of Planning Required

Difficulty/Dangerousness

Entertainment Factor

Creativity Once Things Go Wrong
Without further delay, here is my ranking:
---
10. Syndicate Showdown at the Opera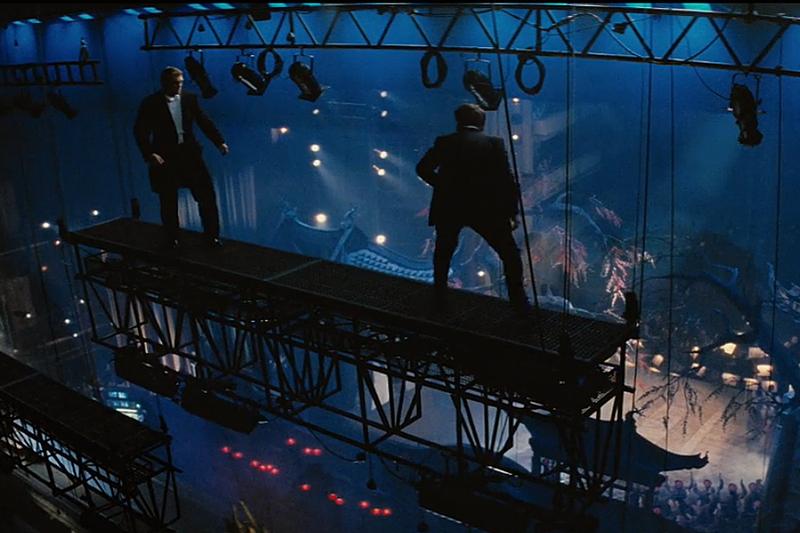 Film: Mission: Impossible – Rogue Nation
Objective: Infiltrate an opera performance in Austria to prevent the syndicate from killing the Austrian Chancellor
Success or Fail: Fail
There were a number of awesome moments in the Mission: Impossible franchise that I could have chosen for this number 10 spot on my list. However, I narrowed it down to the infamous Opera scene for two reasons: one, the fact that Ethan Hunt is pulling the strings of this mission while basically being disbanded (I like all of the secrecy), and two, just the shear production value (set designs, costumes, lighting) is spectacular. To complete this mission, Hunt tricks Benji into helping him – which makes this mission all that more dangerous because one of the key team members doesn't know in advance what he is supposed to be doing. This is also the scene where Ethan Hunt crosses paths again with Isla Faust, setting up the rest of the film and following the tradition of having characters betray each other.
---
9. Heartstopping Shanghai Heist
Film: Mission: Impossible III
MIssion Objective: Obtain the Rabbits Foot device by the deadline
Success or Fail: Success
The final "mission" in the third Mission: Impossible movie starts out simple enough; Ethan has to steal the Rabbits Foot device in order to prevent Owen from killing his wife. The actual heist is something we've seen before in this franchise countless times before, and so the film doesn't even bother to show Ethan Hunt breaking into the building where it is being held and taking it – instead we only see the acrobatics leading up to that moment and the chaotic aftermath. What ensues is an intense street race/fight to try and deliver the device on time. However, that isn't even the most memorable part of this sequence. That occurs later when Julia, Ethan's wife, has to resuscitate him after he electrifies himself in order to stop the device inside his head from blowing up and killing him. It is the most intense climax in the entire film franchise (so far).
---
8. Kremlin Infiltration
Film: Mission – Impossible – Ghost Protocol
Mission Objective: Secure the identity of "Cobalt" from the Kremlin archives
Success or Fail: Fail
Hunt's infiltration of the Kremlin is one of the most gadget-reliant missions of the entire franchise. The crazy technology that they use may make this sequence seem a bit over-imaginative, but it is nonetheless fun to watch. For one, Hunt and team are trying to get into yet another super secure location which also happens to be world-famous. But the excitement and thrills aren't just about breaking in. It's also about getting out! There's a major betrayal and the team is set up to look like terrorists. As a result, we get to see Tom Cruise run very fast while things explode behind him, which is somehow always mesmerizing.
---
7. Bullet Train Sabotage
Film: Mission: Impossible
Mission Objective: Use the meeting with Max as an opportunity to prove that Ethan Hunt did not sabotage his own team in Kiev.
Success or Fail: Success
Hunt carefully plans the encounter with Max in order to deliver her the list in exchange for finding out who had betrayed him. But there is much more going on in this sequence than meets the eye, which is what makes it so intriguing. The film doesn't actually give away Ethan's plans, even if it leads us into thinking we know what is going to happen. In many ways, the audience is just as surprised regarding his actions as his adversaries are, which is an important aspect of any good thriller. It shows the character's incredible ability to plan ahead, and also improvise to complete his mission. The climax of the film, a chase across the roof of a bullet train and then into a tunnel, is just icing on the cake. That sequence, by the way, still looks incredible to this day. The filmmakers did a great job all around.
---
6. Cargo Plane Interception
Film: Mission: Impossible – Rogue Nation
Mission Objective: Prevent Syndicate from escaping with nerve gas.
Success or Fail: Success
As we've noted with the previous entries on this list, the Mission: Impossible missions are often at their most entertaining when they go wrong, and this one in particular goes spectacularly wrong. When the typical computer tricks don't allow the team to complete their mission, Ethan Hunt (impulsively) takes things into his own hands, literally. It was an incredibly intense and eye-opening way to start the film, and features one of the most insane stunts that Tom Cruise had ever attempted. It also established the desperation of the team to stop the Syndicate and prove the merit of their actions, thus setting the tone for the remainder of the film.
---
5. CIA Headquarters Heist
Film: Mission: Impossible
Goal of Mission: Obtain list of covert agent identities so that it can be used as bait to find out who sabotaged Ethan's team
Success or Fail: Success
Before Tom Cruise dangled from the tallest building on the planet, he dangled from the ceiling of a super-secure computer vault. This is one of the most iconic sequences in the entire franchise, and every other film includes an homage in one form or another. It's may not be as exciting or insane as some of the other missions on this list, but it makes up for lack of action by being very tense. At this point in the film, the CIA is actively searching for Ethan Hunt, and so the decision to break into their headquarters is not only very dangerous, but borderline reckless. Plus, there's the fact that he's trying to pull off this heist with a crew that he has no business trusting. Despite all these odds, and a cliche mouse-in-the-air-duct bit, Hunt succeeds, and MIssion: Impossible makes its first mark.
---
4. Blackmail, Biocyte, Bikes, and Birds
Film: Mission: Impossible 2
Mission Objective: Prevent Viral Outbreak
Success or Fail: Success
Say what you will about Mission: Impossible 2, but the climax is just pure bonkers. There is so much going on that it is hard not to be perched at the very edge of your seat. After Ethan's romantic interest injects herself with a deadly virus to prevent a rogue IMF agent from using it as blackmail, Ethan has to race against time to both save her as well as prevent the rogue IMF agent from blackmailing a pharmaceutical company for the antidote. To pull all of this off, Hunt has to infiltrate the bad guy meeting in disguise, where he ingeniously uses a mask as distraction (it is the first of several scenes in the franchise where Ethan Hunt seems to have died). Afterwards, we get treated to the mother of all motorcycle chase scenes, including that final game of chicken with both riders jumping into eachothers arms. There is lots of gunfire. There is eye-watering slow motion. There is epic action movie music. And there are John Woo doves.
---
3. Vatican Kidnapping
Film: Mission: Impossible III
Mission Objective: Kidnap Owen Davian in order to locate the Rabbit's Foot device
Success or Fail: Success
Philip Seymour Hoffman is undoubtedly the star of the third Mission: Impossible film as the villain Owen Davian, and this sequence shows why. For one, his character is very intimidating, and there's a thrill involved in seeing such a despicable character face the consequences of his actions. Effective villains have to be hated, and this mission acted as a path for Ethan Hunt to essentially obtain revenge for all of the harm that Davian had caused to him. His later escape would lay the groundwork for a nail-biting climax. This mission maintains the series trademark of having at least one sequence in the film set at well-known location. This is also one of the most complicated missions in the entire franchise. The sheer coordination required to keep the team on the same page, not to mention the ridiculous amount of costume changes, reliance on fancy gadgets, and special tricked-out vehicles is enough for an entire film, let alone one scene. It's no wonder that it very nearly fails spectacularly.
---
2. Burj Khalifa Climb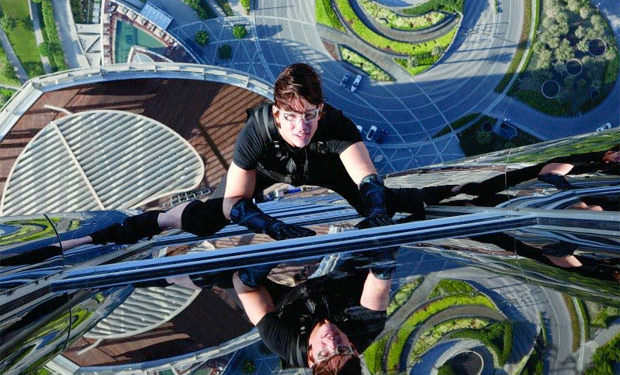 Film: Mission: Impossible – Ghost Protocol
Mission Objective: Prevent nuclear missile launch codes from getting into the hands of a terrorist.
Success or Fail: Fail
One of the most insane stunts in all of the Mission: Impossible movies was actually not part of the original mission plan. Hunt's team arrives at the Burj Khalifa to stage two fake meetings in order to complete their objective. To do this, they need access to the building's security system, and when they arrive Benji determines that he cannot hack into it as originally planned. The only solution is to have Hunt scale the exterior of the building to gain access to the security system from the outside. A harrowing and memorable sequence unfolds, with Hunt putting his life in danger unlike anything we've seen before. And then once you've had a chance to catch your breath, there's the actual meetings, which go all sorts of wrong. A chase ensues, and we get more Tom Cruise running really fast (this time in a dust storm!).
---
1. Underwater Data Heist
Film: Mission: Impossible – Rogue Nation
Mission Objective: Obtain list of Syndicate agents from super secure data vault
Success or Fail: Fail
The "mission" that I picked for being the most difficult is a conglomeration of all of the best Mission: Impossible trademarks. There's an extremely dangerous stunt that no sane person should attempt, a unyielding desperation to help explain why it has to happen, an exotic locale, nifty gadgets seemingly straight out of a sci-fi movie, several near-death experiences, and, of course, a major betrayal. Granted, this sequence probably has the most CGI of any sequence so far, but it makes up for it later on with the best car/motorcycle chase scene in the entire franchise. The driving stunt work is simply spectacular, and the sequence is gloriously choreographed. And in case you are wondering, yes, Tom Cruise did really do his own stunts for the underwater part of this "mission". They filmed the underwater sequence in one take, even if it was cut to seem like several takes. One of the crew later remarked that Cruise was able to stay underwater for close to 6 minutes. That's a commitment to entertainment that must be recognized!