---
Release: May 6 (Wide)
Genre: Action/Adventure, Superhero
Release: PG-13 for sequences of intense science fiction action and violence.
Synopsis: Banished from his homeland of Asgard on account of his arrogance, warrior god Thor is sent to live with and defend humans on Earth.
Logline: Two worlds, one hero.
Cast: Chris Hemsworth, Natalie Portman, Tom Hiddleston, Stellen Skarsgard, and Anthony Hopkins
Writer: Ashley Miller, Zack Stentz, and Don Payne
Director: Kenneth Branagh
Trailer:
Antico-Meter: Anxious Excitement
Reasoning: Well I had low expectations for Thor a couple months ago, but great word of mouth and better marketing has made me excited to see the film.
Expect: Iron Man-Robert Downey Jr+Gods.  On second thought, just Iron Man-Robert Downey Jr.
---
Jumping the Broom

Release: May 6 (Wide)
Genre: Comedy, Drama
Rated: PG-13 for sexual content.
Synopsis: Two very different families meet up at Martha's Vineyard the weekend of a wedding.
Logline: Sometimes the only way to get past family drama is to jump right over it.
Cast: Angela Bassett, Paula Patton, Laz Alonso, Loretta Devine, and Mike Epps
Writers: Elizabeth Hunter and Arlen Gibbs
Director: Salim Akil
Trailer:
Antico-Meter: Eternally Not Caring
Reasoning: These movies aren't my kind of thing.  But if you like em, more power to you.
Expect: A Tyler Perry movie without the honky grandma.
---
Release: May 6 (Wide)
Genre: Romantic Comedy
Rated: PG-13 for sexual content including dialogue, and some drug material.
Synopsis: Single gal Rachel falls for Dex, who happens to be the fiancee of her best friend Darcy.  Oh snap!
Logline: It's a thin line between Love and friendship.
Cast: Ginnifier Goodwin, John Krasinski, Kate Hudson,  Colin Egglesfield, and Steve Howeu
Writer: Jennifer Snyder (Based on the Book by Emily Giffin)
Director: Luke Greenfield
Trailer:
Antico-Meter: Masculine Disinterest
Reasoning: Well I enjoy John Krasinski, the plot does very little for my male brain.
Expect: Another romantic comedy built upon misunderstandings, confusion, and true love.
---
Release: May 13 (Wide)
Genre: Comedy
Rated: R for strong sexuality and language throughout.
Synopsis: A lovestruck and broke woman is tasked as her best friend's made of honor, and must complete all the usual rituals with a group of oddball bridesmaids.
Logline: Save the Date.
Cast: Kristen Wiig, Ellie Kemper, Rose Byrne, Jon Hamm, and Maya Rudolph
Writers: Kristen Wiig and Annie Mumolo
Director: Paul Feig
Trailer:
Antico-Meter: Excited to Laugh
Reasoning: While Bridesmaids hasn't had the best trailers, early word of mouth is amazingly strong, and Kristen Wiig is one of the funniest people out there.  Consider me psyched.
Expect: Good laughs, funny performances, and dirty jokes.
---
Release: May 13 (Wide)
Genre: Action
Rated: PG-13 for intense sequences of violence and action, disturbing images and brief strong language
Synopsis: A renegade priest goes against church laws to rescue the vampires that kidnapped his niece.
Logline: The war is eternal…his mission is just the beginning.
Cast: Paul Bettany, Karl Urban, Cam Gigandet, Maggie Q, and Lily Collins
Writers: Cory Goodman and Min Woo Hyung
Director: Scott Charles Stewart
Trailer:
Antico-Meter: Not Expecting Much
Reasoning: The trailer for Priest left me kind of cold, but it has a solid cast and a good premise.  Yet the director's other works don't bode well, nor does the tepid buzz so far.
Expect: Non-Sparkling Vampires, Ass Kicking Biblery, and Cam "Freaking" Gigandet
---
Release: May 13 (Limited)
Genre: Action/Drama
Rated: R for language and some sexual content.
Synopsis: A struggling alcoholic holds a yard sale after losing his wife and his job in hopes of starting over and achieving redemption.
Logline: Lost is a good place to find yourself.
Cast: Will Ferrell, Laura Dern, Rebecca Hall, Stephen Root, and Michael Pena
Writers: Dan Rush (Based on the Short Story by Raymond Carter)
Director: Dan Rush
Trailer:
Antico-Meter: Expecting the Same.
Reasoning: Another indie dramedy about a man reinventing his life and finding the important things in it?  I think I've seen enough of those to last a lifetime.  Still, I like Will Ferrell, so it's probably a good rental for me.
Expect: Redemption, Epiphanies, and the Meaning of Love
---
Release: May 13 (Limited)
Genre: Drama
Rated: R for disturbing violent behavior, sexual content including graphic dialogue, pervasive language, and drug content – some in the presence of a child.
Synopsis: A violent young man has his life turned around after an encounter with a man named TJ.
Logline: Sometimes life gives you the finger.  And sometimes, life gives you…Hesher.
Cast: Joseph Gordon Levitt, Natalie Portman, Rainn Wilson, Piper Laurie, and John Carroll Lynch
Writers: Spencer Susser and David Michod
Director: Spencer Susser
Trailer:
Antico-Meter: Can't Stop Looking
Reasoning: Hesher is so evil and pessimistic, but it looks so intriguing as well!  Will definetly catch this one.
Expect: Fires, Anarchy, and a Long Haired Joseph Gordon Levitt
---
Pirates of the Caribbean: On Stranger Tides
Release: May 20 (Wide)
Genre: Action Adventure
Rated: N/A (Probably PG-13)
Synopsis: Captain Jack Sparrow is back in this grand adventure that pits Sparrow against both Barbossa and Blackbeard as he searches for the Fountain of Youth with a feisty new companion.
Logline: N/A
Cast: Johnny Depp, Geoffrey Rush, Ian McShane, Penelope Cruz, and Kevin McNally
Writers: Ted Elliot and Terry Rossio (Inspired by the Novel By Tim Powers)
Director: Rob Marshall
Trailer:
Antico-Meter: Nervous Anticipation.
Reasoning: Pirates has burned me before, but I have hopes this will capture the franchise's long lost glory.  But losing Gore Vebrinski sure won't be helping the film.
Expect: Pirates sailing the Caribbean.  And Penelope Cruz is there too!
---
Release: May 20 (Limited)
Genre: Drama, Comedy
Rated: PG-13 for mature thematic material, some disturbing content, sexuality and language including a drug reference.
Synopsis: A troubled executive gets a second shot at life when he adopts the voice of a beaver puppet he found in the trash.
Logline: He's here to save Walter's life.
Cast: Mel Gibson, Jodie Foster, Anton Yelchin, Jennifer Lawrence, and Zachary Booth
Writer: Kyle Killen
Director: Jodie Foster
Trailer:
Antico-Meter: Intrigued.
Reasoning: This is an interesting choice for Mel Gibson, and I've been wanting to see this film way back when Steve Carrell was attached.
Expect: Beaver Puppets, Mel Gibson, and Mel Gibson's Funny Beaver Puppet Accent.
---
Kung Fu Panda 2: The Kaboom of Doom
Release: May 26 (Wide)
Genre: Animated, Action, Comedy
Rated: PG for sequences of martial arts action and mild violence.
Synopsis: Newly trained Kung Fu warrior Po and the Furious Five team up with a new group of warriors to fight a new enemy and save Kung Fu.
Logline: Prepare for the return of awesomeness.
Cast: Jack Black, Angelina Jolie, Jackie Chan, Dustin Hoffman, and Gary Oldman
Writer: Jonathon Aibel and Glenn Berger
Director: Jennifer Yuh
Trailer:
Antico-Meter: Not As Excited As Most Are.
Reasoning: I'm one of the few who didn't go completely nuts over the original way back in 2008, and this one looks like more of the same.  Ha, it's funny because Panda's are fat, and they shouldn't be doing Kung Fu.  ROFL!
Expect: Fat Jokes, Pandas, and Kung Fu.
---
Release: May 26 (Wide)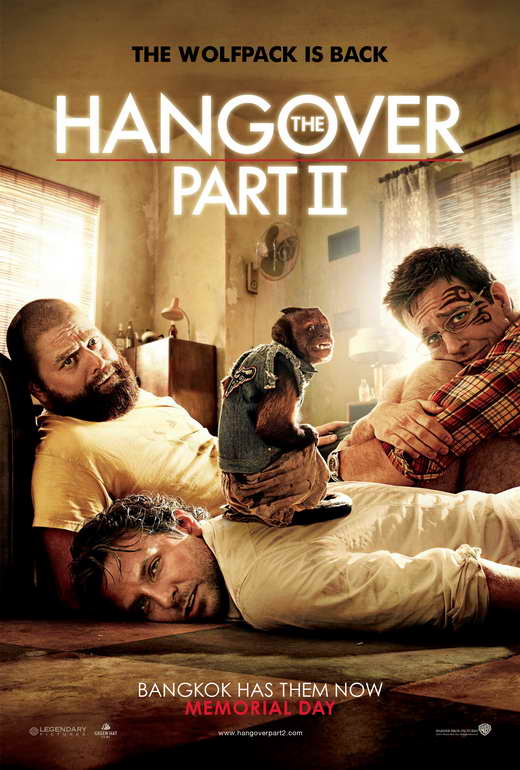 Genre: Comedy
Rated: N/A (Probably R)
Synopsis: The Wolfpack is back as they travel to Thailand to celebrate Stu's wedding.  But old habits die hard for the group, and they soon find themselves lost in Bangkok as they search for Stu's teenage brother in law.
Logline: The Wolfpack is back.
Cast: Bradley Cooper, Ed Helms, Zack Galifianakis, Justin Bartha, and Ken Jeong
Writer: Craig Mazin, Scot Armstrong, and Todd Phillips
Director: Todd Phillips
Trailer:
Antico-Meter: I'll Probably See It.
Reasoning: Despite the fact that this seems to be more of the same for The Hangover crew, those guys are pretty funny, so I'll probably see it eventually.  And it has a monkey!
Expect: Jokes, Hangovers, and Cute Ass Monkeys.
---
Release: May 26 (Limited)
Genre: Drama
Rated: PG-13 for some thematic material.
Synopsis: Centers on a family in the 1950's who's eldest son loses his innocence early in his life and later tries to reconcile with his father during his adulthood.
Logline: Nothing stands still.
Cast: Brad Pitt, Sean Penn, Jessica Chastain, Fiona Shaw, and Joanna Going
Writer: Terrence Malick
Director: Terrence Malick
Trailer:
Antico-Meter: Curious As Hell
Reasoning: We know very little about Tree of Life, but just the cast and the involvement of Terrence Malick assures a fantastic film.  And did you see that trailer?  It's like The Fountain, but without all the bad parts!
Expect: Pretty Visuals, Excellent Direction, and Great Acting.
---
That does it for May.  Be sure to check out next month's guide for June, then stay tuned for July and August.