* Hugh Jackman made his surprise appearance in order to promote Real Steel, but being Comic Con he also talked about the status of Wolverine 2.  He briefly mentioned start dates, but in talking about the new script, he may have let slip the villain in the film:
"I'm filming Les Miserables in February, but before that I will be filming Wolverine 2 in October. Chris McQuarrie has written a fantastic script and it should turn out really good. I'll fight the Silver Samurai in it so that should be exciting. Most of the filming will take place in Japan."
* Check clips from the return of Beavis and Butt-Head that MTV shared at SDCC.  Personally, I could live without this show coming back, but I know plenty of people are excited for its return.
* Robert Rodriguez spoke with fans during a panel about the long gestating Sin City sequel, and actually gave them some big hopes for seeing it soon.  He says they're still in the scripting process and have based the story off of 3 different stories from Frank Miller's comics: A Dame To Kill For, The Long Bad Night, and the third he wouldn't say. However, the most exciting bit of information was when he said this:
"If it's going to happen, it's going to happen this year."
* On top of talking about the Sin City sequel, Rodriguez also took time to update us on a couple other sequels he might be cooking up.  Mostly the Machete sequels.  That's right, it's plural.  Rodriguez said that due to the box office turn out and DVD sales, he's gotten the greenlight for a second movie, which is definitely happening, called Machete Kills.  If that one does well, there's already a deal in place for a third movie, which will be called Machete Kills Again…Yeah, that's pretty awesome!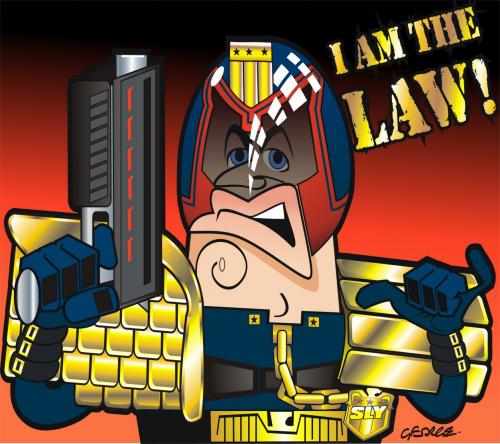 * Lionsgate has revealed that they will be releasing DREDD (the Judge Dredd reboot starring Carl Urban) September 21st, 2012.
* Even with all that Guillermo del Toro has going on, he still wants to give fans what they want in a Hellboy 3 movie. There's been a lot of debate about whether or not this film will happen, but a panel discussion between Ron Perlman and del Toro may give fans some hope:
From Perlman: "'Hellboy 2' was tough. Both of us walked away from that a little bit, 'Do I ever want to revisit this?' But then with the luxury of time and looking at it in an objectified way…We were beat up at the end of it…[del Toro] always looked at it as a trilogy and there were things that were unresolved. So for us to not make it would be letting down people who invested in the first two. It's epic what he wants to do, but it would be cinematic and well worth doing."
From del Toro: "Each of those moves has been an incredible ordeal to make. The third one is the hardest one because it's the darkest one…And if it's not Ron, I don't want to make it. The third one is epic, it's gigantic."
* Michael Jai White was on hand at the event to talk about his current role in the new Mortal Kombat web-series, but the conversation at one point turned to the original Spawn movie (for which he played the titular character).  Pretty much, he says if Todd MacFarlane can ever get his R-rated reboot off the ground, he wants another shot at playing the role.  Honestly, the problems with that movie came from the script and White did a good job with what he had.  I'd let him try again.  Anyway, here's what he said:
"I hope he does [make the film]. In the next couple years I might have to produce it myself. It's a no-brainer. Look at how these movies have done, superhero movies that have gone dark, and there hasn't been one darker than Spawn. If we do it like we want to, it could be a game changer. I think Todd feels the same way as me – that we go R. Not a kinder, gentler Spawn, we go straight R – like pushing it, pushing NC-17. Give the fans what they expect. That edge brought [the comic book] to where it is. I would really like to show what that character can be."
* Sony released the official teaser poster for The Amazing Spider-Man.
* Around Comic Con, we've been seeing posters for a company called Armadyne, with a website listed.  Turns out that this is the start of the viral marketing campaign for Neill Blomkamp's next film, Elysium.  This is very reminiscent of how the viral marketing started for Disctrict 9 during SDCC 08.
All right, we'll go ahead and wrap it up there.  While there is still tons of stuff coming from Comic Con we'll be sure to keep you posted on everything that comes out of it.  So stay tuned to TheMoviePool for all the latest.
-Jordan