Contestant #1: Hall Pass
The Basics:
Synopsis: Two men get a chance to cheat on their wives and then proceed to do it.  But they are old, so they have to try a little hard.
Cast: Owen Wilson, Jason Sudeikis, Christina Applegate, Jenna Fischer, and Richard Jenkins
Written by: Pete Jones, Kevin Barnett, Peter and Bobby Farrelly
Directed by: Bobby and Peter Farrelly
Trailer:
The Buzz
It's been 4 years since we've seen the Farrelly brothers in action.  There return?  Probably not worth it.  "Something about Mary" seems a lifetime ago." says Lisa Kennedy of the Denver Post. It's true; comedy has changed since when the Farrelly's have ruled.  If they hope to adapt, they have to move beyond there gross out, bro-centric tendencies.  "Ever catch yourself thinking, "Man, I wish beer commercials lasted just 104 minutes longer"? (Elizabeth Weitzman, New York Daily News) Time to move on to more modern topics, Farrellys.  Okay, no go make The Three Stooges!
Rotten Tomatoes Critical Consensus: Some filmgoers may be surprised by the Farrellys' defense of traditional domestic values in Hall Pass — unfortunately, they'll probably also be dismayed by the absence of laughs." (Score: 31% out of 100)
Metacritic: Mixed or average reviews (Score: 48 out of 100)
IMBD: 6.6 out of 10
The Verdict
I really had hopes for Hall Pass. I love Jason Suidekis, and Owen Wilson is a comedian too.  Jenna Fischer is cute, and Christina Applegate is funny.  So is Stephen Merchant and (surprisingly) Richard Jenkins.  The talent was there.  But apparently, the laughs weren't.
The Edge: Great cast, once great directors.
The Sharp End: Cast underused, laughs just aren't there.
Cinema Showdown Score: 2.5 out of 5
Overall: Hall Pass is a paltry C-, and should be caught on Cable or Netflix Watch Instantly.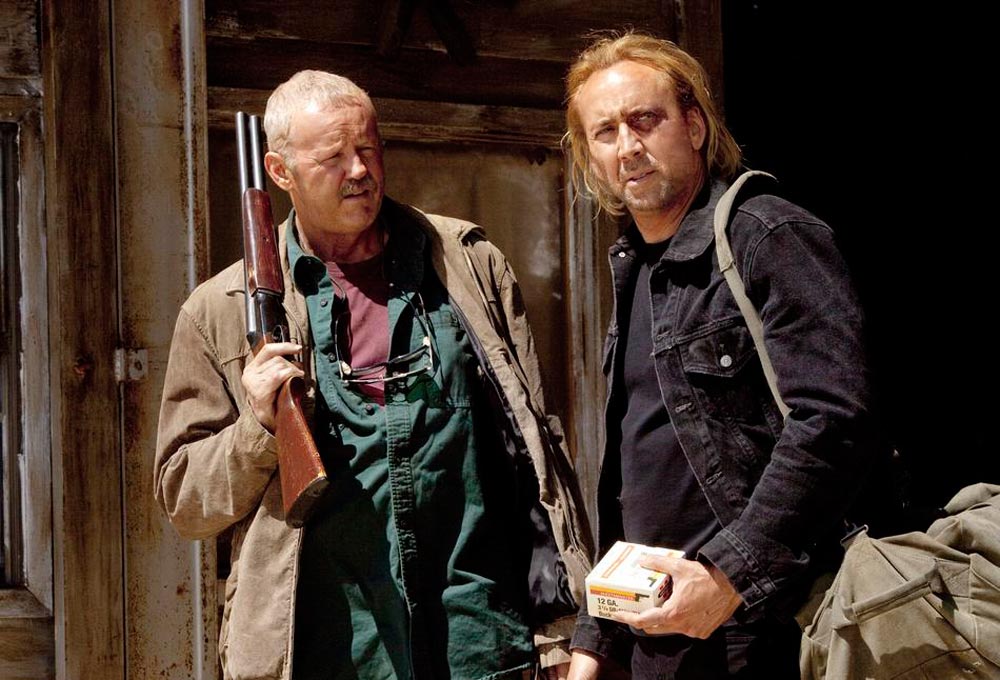 Contestant #2: Drive Angry
The Basics:
Synopsis: An angry father escapes from hell and goes after the man who killed his daughter.
Cast: Nicolas Cage, Amber Heard, William Fichtner, Billy Burke, and David Morse
Written by: Todd Farmer and Patrick Lussier
Directed by: Patrick Lussier
Trailer:
The Buzz
Meh, which is a very good improvement for Nicolas Cage!  Especially considering his last film, Season of the Witch.  "Cage has forged his own hell, and it's called: the movies he's addicted to making, even when they trash his brand." (Owen Gleiberman, Entertainment Weekly). Can Nicolas Cage ever completly redeem his career?  No, I don't think so.  But half of me is starting to question if he even wants to.  "Heard sets herself up as a Megan Fox with talent. And Cage? He delivers. Mock him for his bad choices if you will, but consider this. Who else could have made this work, or would even want to?" (Roger Moore, The Sentinal). Until then, we can at least have fun watching him be crazy.
Rotten Tomatoes Critical Consensus: None.
Metacritic: Mixed or average reviews (Score: 49 out of 100)
IMDB: 6.5 out of 10
The Verdict
It seems like a fun action film, but nothing particularly memorable.  On a scale from 1 to Face/Off, this probably clocks in at a Gone in 60 Seconds on the Cage-o-Meter.
The Edge: Fun, moderatly good action, shot in 3D.
The Sharp End: Really stupid, bland, not particularly memorable.
Cinema Showdown Score: 3.5 out of 5
Overall: No need to Drive Angry to the theater; Drive Angry 3D is nothing more than a DISCOUNT WATCH.
And the Pick of the Week is…
DRIVE ANGRY.
This is what we call the best of a bad situation.  The bad situation?  We're in Dump Month.  The Best Part? We get two Nicolas Cage movies!  Sigh…I can't wait for next week to come.
But congrats Drive Angry for winning by default.  Use the money to buy some gas.  I'm sorry, I honestly don't have the effort to be bad at being witty right now.  Chow.
This week was kind of a bummer, but next week will be the something of something good.  Johnny Depp's next film Rango and a Matt Damon film The Adjustment Bureau fighting for audiences.  Not to mention Take Me Home Tonight and Beastly. Who will win?  I guess we'll see.  Until then, good luck on your weekend movie watching endevours, and may the cinema gods be with you!