DVD SPECS
ASPECT RATIO: 1.85:1 enhanced for widescreen TVs
RUNNING TIME: 75 minutes
RATING: Not rated
AUDIO: Dolby Digital 2.0 mono
SUBTITLES: None  
SPECIAL FEATURES: Trailer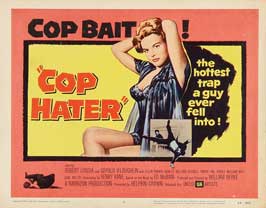 The DVD is offered as part of MGM's "Limited Edition Collection" on DVD, which are available from select online retailers and are manufactured only when the DVD is ordered. The DVD features a simple menu with no menu for chapters or scenes. Chapters are set every ten minutes. Manufacture-On-Demand (MOD) DVDs will play in DVD playback units only and may not play in DVD recorders or PC drives. This DVD did not play in our laptop DVD drive but did play in our Toshiba DVD recorder.
THE SET-UP
A dedicated cop (Robert Loggia) tries to hunt down a cop killer during a hot summer in New York City.
Produced and directed by: William Burke
Written by: Henry Kane
THE DELIVERY
Based on the novel by Ed McBain, Cop Hater tries to be gritty and real, but comes off as melodramatic and overacted. The plot isn't particularly interesting, and much of the acting is still steeped in old Hollywood. The characters are pretty superficial, and the gang members are downright laughable.
The movie seems too intent on drawing the line between good and evil, because characters often launch into discourses like something out of the original Dragnet TV show. I'm sure it was necessary at the time the movie was made, but it feels dated now. Given the mystery the movie tries to unravel, the ending felt rushed and unsatisfactory.
Robert Loggia and Gerald S. O'Loughlin are decent leads, but the script fails them. Instead of realism, we get caricatures. Compared to today's cop movies, or even cop TV shows for that matter, Cop Hater doesn't hold up very well. However, as a dramatic, slightly overacted Hollywood diversion, it isn't terrible. Keep an eye out for the great Jerry Orbach in a small role as one of the members of the "Grovers" gang. He appears when members of the gang are brought in for questioning and a fight breaks out.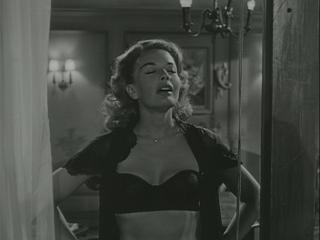 VIDEO AND AUDIO
The video quality for this 1957 film is pretty clean, with minimal lint and dirt visible on the print. However, it isn't a particularly sharp picture; and while better than VHS quality, it isn't as detailed as you might see on DVD. Since the film is in black and white, however, there is no worry about colors looking washed out. Considering this movie is over half a century old, the overall quality isn't too bad. The sound is Dolby Digital 2.0 mono, which is suitable for a dialogue-heavy film.   
SPECIAL FEATURES
A trailer is included, which is interesting to see how they tried to sell this film to audiences of the time.
BUY IT OR NETFLIX IT?
RATINGS
MOVIE: C+
VIDEO: B-
AUDIO: B
EXTRAS: C-
OVERALL GRADE: C+
I must give MGM and Fox Home Video credit for doing the "Manufacture-On-Demand" program, because it makes it possible for films like Cop Hater to be released, when they otherwise would sit in limbo for years until the studio got around to creating a full-blown DVD release campaign. Cop Hater, while not a great film, isn't bad either, and is worth at least a look. Unless you are just a junkie for classic black and white dramas from Hollywood's Golden Age, the movie isn't quite good enough to earn a "buy" recommendation. At best, it's worth a rent or putting it in your Netflix queue.

Cop Hater is now available on DVD MOD (Manufacture On Demand) from online retailers through Fox Home Video.