The DVD is offered as part of MGM's "Limited Edition Collection" on DVD, which are available from select online retailers and are manufactured only when the DVD is ordered. The DVD features a simple menu with no menu for chapters or scenes. Manufacture-On-Demand (MOD) DVDs are made to play in DVD playback units only and may not play in DVD recorders or PC drives. This DVD did not play in our laptop DVD drive but did play in our Toshiba DVD recorder.

DVD SPECS
ASPECT RATIO: 1.85:1 enhanced for widescreen TVs
RUNNING TIME: 88 minutes
RATING: PG
AUDIO: Dolby Digital 2.0
SUBTITLES: None  
SPECIAL FEATURES: Trailer
THE SET-UP
Count Dracula (David Niven) goes to London after a blood transfusion turns his wife Vampira into a swinging black woman. Seriously.
Screenplay by: Jeremy Lloyd
Produced by: Jack Weiner
Directed by: Clive Donner
THE DELIVERY
Originally titled Vampira in the United Kingdom, this film was renamed Old Dracula for its 1975 U.S. release in some misguided attempt to capitalize on the popularity of Young Frankenstein. The producers of this movie somehow managed to cast the great David Niven, who turned out to be the world's most boring Dracula.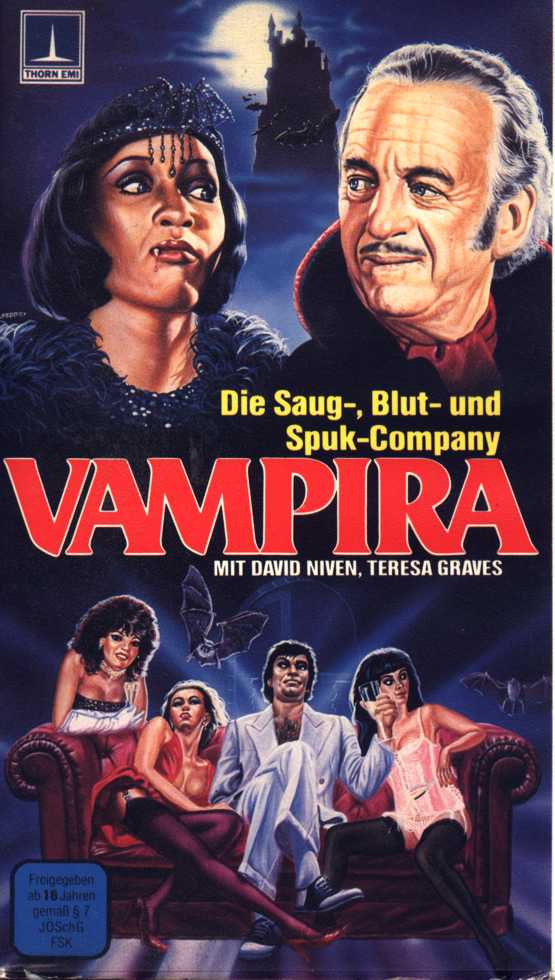 The plot involves Dracula searching for the right blood to resurrect his wife Vampira. When a group of Playboy bunnies visit his castle for a photo shoot, he takes samples of their blood and injects them into Vampira. The process works, but one of the bunnies is African-American, and her blood turns Vampira black. No, I'm not kidding. The rest of the film then involves Dracula traveling to London to get the blood of the white Playboy bunnies in order to turn his wife back to a white woman. He does, however, mention "Black is beautiful," even while he tries to "cure" her.
Not only is Old Dracula racially offensive, it isn't funny or scary. I suppose it was trying to be provocative, but it fails miserably. The rest of the film is just mediocre. The plot makes no sense, and it tries too hard to be hip, which for 1975, is an ugly thing. When Vampira, as a black woman, calls David Niven's Dracula a "jive turkey," he wonders what she is talking about. And I don't think he was acting. I actually felt bad for Niven slumming it in this movie.
Just when I thought the movie could not get worse, it has one more racially offensive joke to end the film. It is no wonder this film has not seen a home video release in a while.    

VIDEO AND AUDIO
This is an MGM "manufacture-on-demand" DVD, so it is burned onto a DVD-R once an order is placed for it. While the quality of the video will not test the limits of DVD, it is quite good, using a fairly clean print that provides some sharpness to edges and decent color. Faces, however, often show a soft focus. The audio is Dolby Digital 2.0, and has very good clarity to hear the dialogue.

SPECIAL FEATURES
A theatrical trailer is included.

BUY IT OR NETFLIX IT?
RATINGS  
MOVIE: C
VIDEO: B-
AUDIO: B-
EXTRAS: C-
OVERALL GRADE: C
Maybe if Old Dracula had figured out what it wanted to be, it might have been better. It is not very funny, and it is not a satire. It certainly is not a horror film, and frankly, it is just a mess. It offends, but it never manages to be so bad that it's fun to watch, like a train wreck. This is the cinematic version of paint drying.
It might only be worth a rent, and I would not even recommend that, just to see how truly awful the racial subtext is here. People don't seem to believe me when I tell them how racially offensive this movie is. Some things are better left unseen.

Old Dracula is now available from online retailers through MGM/Fox Home Entertainment.

Click here to order Old Dracula from Amazon.