DVD SPECS
ASPECT RATIO: 1.85:1 enhanced for widescreen TVs
RUNNING TIME: 81 minutes
RATING: Not rated
AUDIO: Dolby Digital 2.0
SUBTITLES: None
SPECIAL FEATURES: Trailer

The DVD is offered as part of MGM's "Limited Edition Collection" on DVD, which are available from select online retailers and are manufactured only when the DVD is ordered. The DVD features a simple menu with no menu for chapters or scenes. Chapters are set every ten minutes. Manufacture-On-Demand (MOD) DVDs will play in DVD playback units only and may not play in DVD recorders or PC drives. This DVD did not play in our laptop DVD drive but did play in our Toshiba DVD recorder.
THE SET-UP
A falsely-convicted doctor is saved from the gallows by a brilliant scientist (Basil Rathbone), who fakes his death and takes him to a dark, castle-like mansion, where horrifying experiments are being conducted. Horror film icons Bela Lugosi, Lon Chaney, and Tor Johnson all appear as supporting characters.
Directed by: Reginald Le Borg
Written by: John C. Higgins
Executive Producer: Aubrey Schenck
THE DELIVERY
Given the pedigree of actors from classic Hollywood horror in this film, I was expecting a smuch stronger effort, but The Black Sleep does a lot of snoozing until the final act. Like most horror films of the era, it takes a while to build, and the payoff could have been better. I'm not a big fan of horror movies, but after waiting over an hour for something to happen, I admit I laughed like a spoiled kid when one of the characters is set on fire and takes off running through the castle like a cartoon character.
The premise isn't quite as scary as you might think; it's less about "the black sleep" and more about an evil scientist conducting heartless experiments on people in the dungeon of a spooky castle. The film is a low-budget affair, so it doesn't have the sets or even the atmosphere of some of the classic Universal horror films. While it has its moments – especially in the finale – most of the actors, especially Chaney and Lugosi, are sorely underutilized. Chaney does his best, but he really could have used better makeup to seem more imposing. The only one that really seems to have fun with it is John Carradine, who hams it up anytime he's on screen. The film could have used more of him.
VIDEO AND AUDIO
For a 1956 low budget independent horror film, the video transfer quality is surprisingly good. It is far better than what fans are probably used to from the previous VHS releases. The image is mostly free of debris, and the black and white picture is fairly sharp and distinctive. The sound is Dolby Digital 2.0, and while the music is a bit understated, the voices are crisp and clear.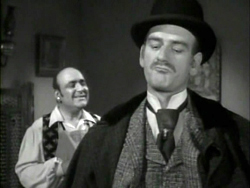 SPECIAL FEATURES
A trailer is included, which is great, although there aren't any of the usual title overlays on it, which seems odd.
BUY IT OR NETFLIX IT?
RATINGS
MOVIE: B
VIDEO: B+
AUDIO: B
EXTRAS: C-
OVERALL GRADE: B-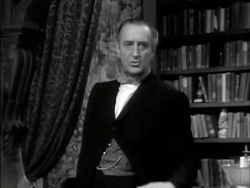 Horror fans: it's a no-brainer: BUY IT! Obviously, The Black Sleep isn't among the greatest of classic horror films, but if you are a fan, the fact that you have all of these big names in one film makes this a must-buy to add it to any collection. Classic horror fans will forgive the shortcomings and have fun with the film. Hopefully, the success of this release will pave the way for a future special edition, with more extras and behind-the-scenes information.

The Black Sleep is now available on DVD MOD (Manufacture On Demand) from online retailers through Fox Home Video.
Click here to order The Black Sleep on MOD DVD from Amazon.com!