Today, Torn Banner Studios, Tripwire Presents, and Deep Silver have announced that Chivalry 2 will launch on June 8, 2021 for PS4, Xbox, and PC! It was also announced that by pre-ordering the game you can gain access to the Chivalry 2 Cross-Play Closed Beta event that will begin March 26th.
By pre-ordering the game, you will also gain access to the Royal Zweihänder weapon skin. This skin will be available to use when the full game releases in June.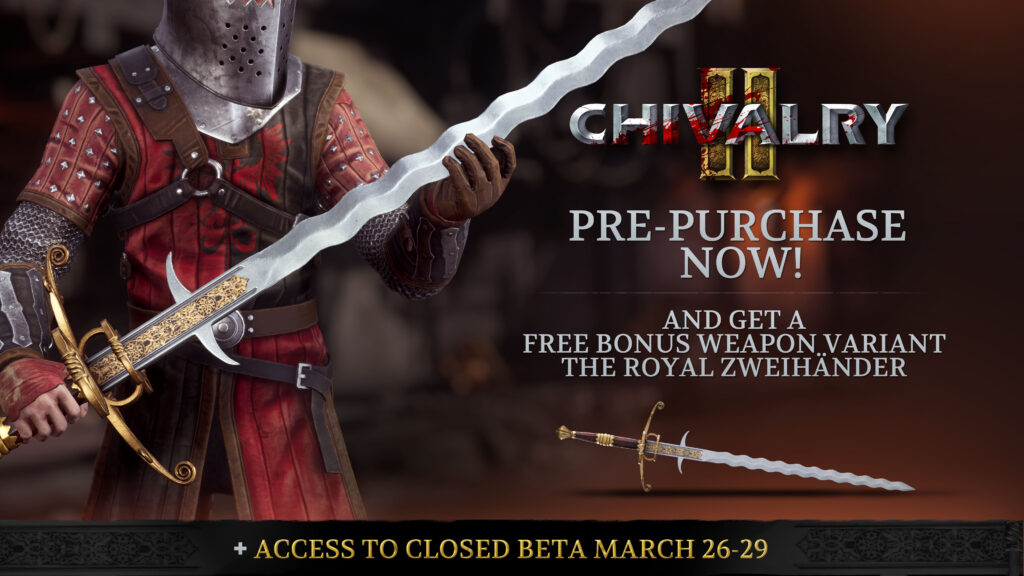 I have always been fond of the Chivalry series, something I have wanted for some time was a Medieval style Call of Duty game, so when I found out that the first Chivalry title was released on console I couldn't hold my excitement in. There is nothing better than storming a castle with friends online, until now. Chivalry 2 now supports up to 64 player battles and will have more action on the battlefield than ever before!
Below, you can see the latest Dev Diary video, as well as pre-order and special edition details! For more news on the game, check back here at Cinelinx!
Digital pre-orders are live today for PC for both the standard edition of Chivalry 2 (MSRP $39.99, €39.99, £34.99) and the Chivalry 2: Special Edition (MRSP $49.99, €49.99, £44.99). More news on the availability of console pre-orders will be announced soon.

The Special Edition, offered for digital pre-order only, comes with a bevy of additional exclusive items including the full Chivalry 2 game, the Agatha Jousting Knight Armor and Royal Broadsword, the Mason Jousting Knight Armor, the Gold Horseman's Axe, the Roses novelty item, and more. All digital pre-orders of either the standard or special edition will guarantee access to the upcoming closed beta. Please visit the official website for additional pre-order information.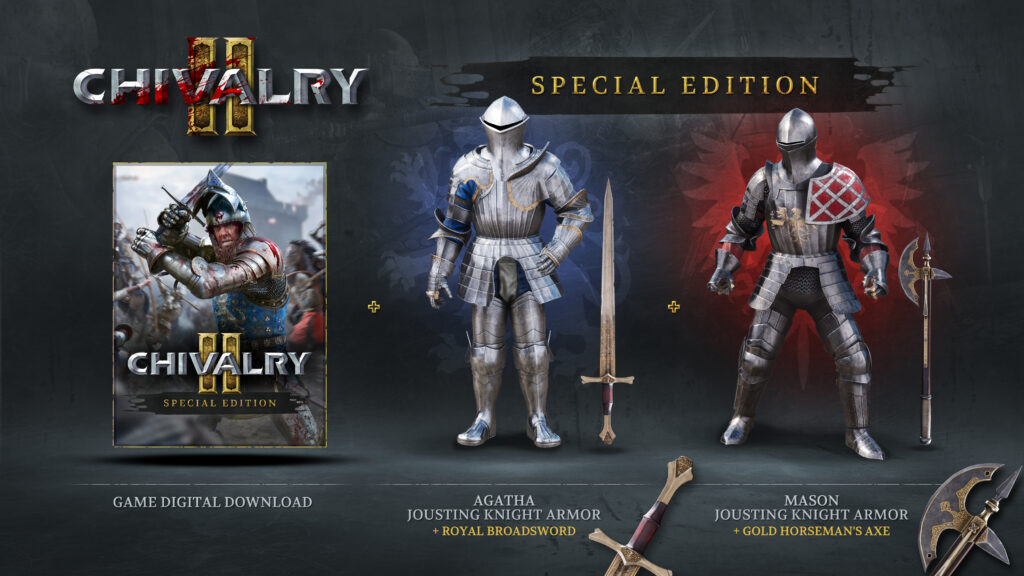 Scheduled to begin on March 26 and running through March 29 for PC (via Epic Games Store) PlayStation®4, PlayStation®5, Xbox One, and Xbox Series X/S Console Systems, the Chivalry 2 Cross-Play Closed Beta event will offer fans the chance to experience the ultimate medieval battlefield ahead of its global multiplatform June 8 launch.

To stay up to date on the latest regarding Chivalry 2 news, please sign up for the Chivalry 2 newsletter on the official website, visit Tripwire Presents, join the official Chivalry 2 Discord server, and follow the developers on Twitter, Facebook, and YouTube.