Activision announced today the single-player campaign in Call of Duty: Modern Warefare 2 got a full, high-definition facelift and is available to purchase today on PlayStation 4 consoles.
Other platforms are available for pre-purchase and set to launch on April 30.
"Rather than release a separate, multiplayer experience as a standalone pack, Activision and Infinity Ward are looking to bring more classic map experiences to new life within the Modern Warfare universe as it continues to grow and build over time," a blog post on Activision said. "In the meantime, we can look forward to enjoying this return to the [sic] one of the greatest single-player experiences ever, beautifully remastered by Beenox. And also continue to enjoy the full Modern Warfare universe experience whether you're jumping into Multiplayer or dropping into Warzone."
The game includes the full campaign with high-definition visuals with up to 4K resolution and HDR support on console, uncapped framerate and ultrawide monitor support on PC.
"[The] Modern Warfare 2 campaign was incredible. We all remember the lasting impression the story left upon us. This campaign was very special and we thank Infinity Ward for creating such an amazing experience," said Thomas Wilson, co-studio head, Beenox. "Restoring and remastering this campaign for a new generation of players was a labor of love for our team. We wanted to make sure that the feelings and power of the story was accurately represented with full high-definition visuals and the latest audio fidelity."
In the Modern Warfare 2 campaign, players will be enlisted as members of Task Force 141 and Tier 1 Operatives in a series of missions to save the world from utter annihilation.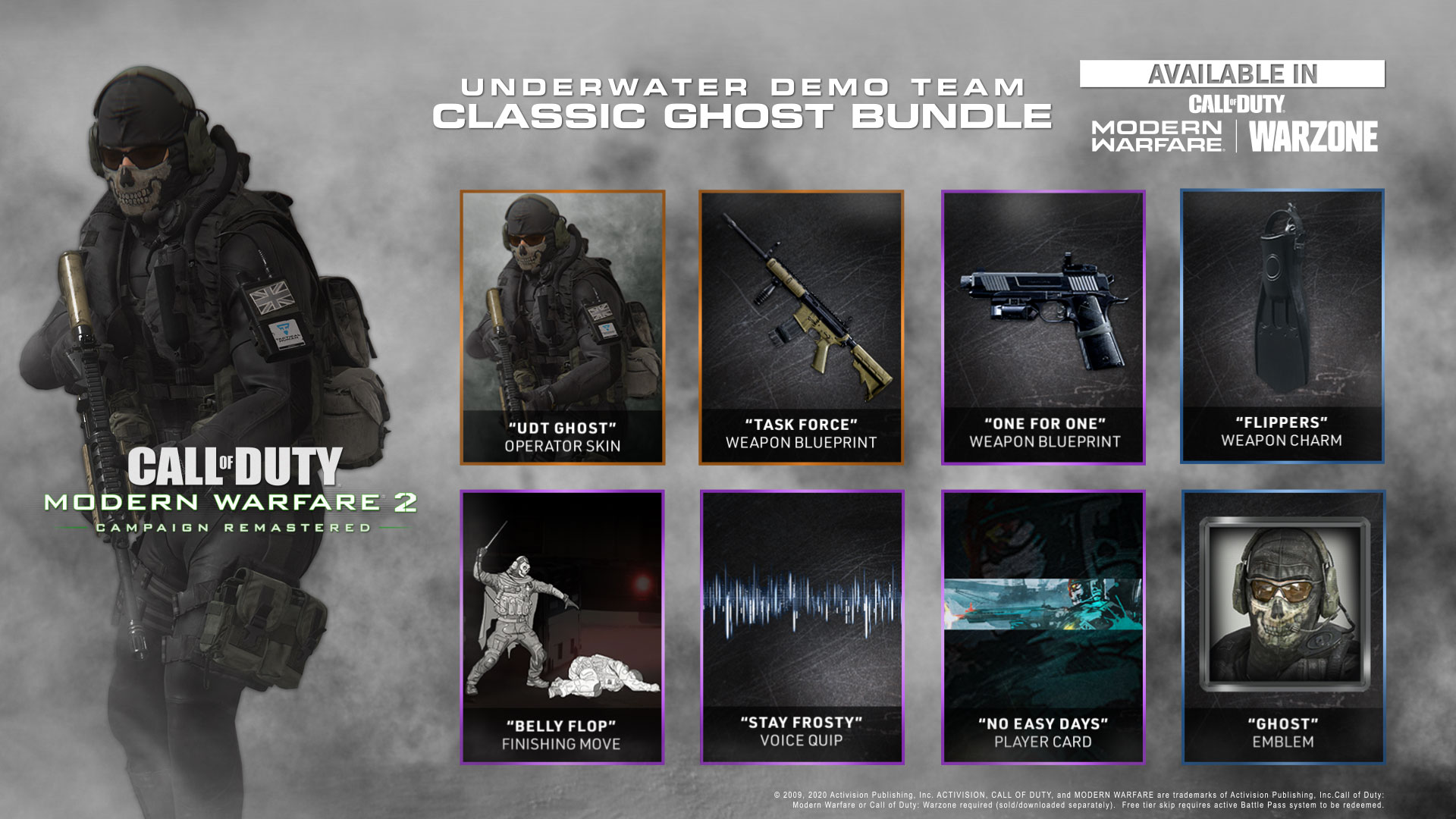 Players who purchase the campaign will receive the Underwater Demo Team Classic Ghost Bundle for Call of Duty: Modern Warfare including the UDT Ghost Operator skin inspired by the 'The Only Easy Day…Was Yesterday' campaign level that featured a hostage rescue attempt from an oil rig in the arctic. Alongside the Ghost Operator skin, players will also receive two weapon blueprints, a weapon charm, new finishing move, voice quip, animated calling card, emblem and two Battle Pass tier skips all for immediate access in Call of Duty: Modern Warfare and the recently released Call of Duty: Warzone.
Xbox and PC players can snag the Underwater Demo Team Classic Ghost Bundle with the UDT Ghost Operator skin instantly for play in Modern Warfare by pre-purchasing the campaign.