Eric Barone, the sole developer on Stardew Valley, announced this week that the much-anticipated 1.4 update coming to PC later this month.
The content update includes at least one new farm map, post-marriage heart events, in-game features and more.
According to a blog post on the game's official website, Barone said that the goal of the newest update is to "finally 'polish' the game to the degree that I've always wanted," including bug fixes, control updates and other quality of life features.
The update will release on PC November 26. The goal, Barone said, is to release the update on consoles and mobile simultaneously a few weeks later.
In previous tweets, Barone has teased new features to be included in the latest update.
A new map called "Four Corners" will be optimized for multiplayer use, along with the implementation of separate bank accounts in co-operative play.
Hey everyone, just wanted to share this screenshot from the upcoming 1.4 update! It's a big one, & this image only reveals a fraction of what's coming. Featured here is a new farm map called Four Corners that's perfect for the much requested "separate money" option in multiplayer pic.twitter.com/wwI1nHWpvX

— ConcernedApe (@ConcernedApe) April 27, 2019
Buildable ponds and harvestable roe are in the future for our farms as well. Is caviar far behind?
Another sneak peek into the upcoming 1.4 update… introducing fish ponds, a new farm building that allows you to raise fish and collects eggs (roe) and other products. pic.twitter.com/52MFaP3Fjz

— ConcernedApe (@ConcernedApe) September 5, 2019
In Tuesday's announcement Barone said that he wanted to keep spoilers to a minimum, but he has identified some specific new features coming later this month. (But don't worry, I'll be playing and will provide more concrete updates when details become available.)
Spouses will have a new heart event once players reach 14 hearts and he shared an screenshot of a romantic dinner with Pelican Town's chief doctor Harvey.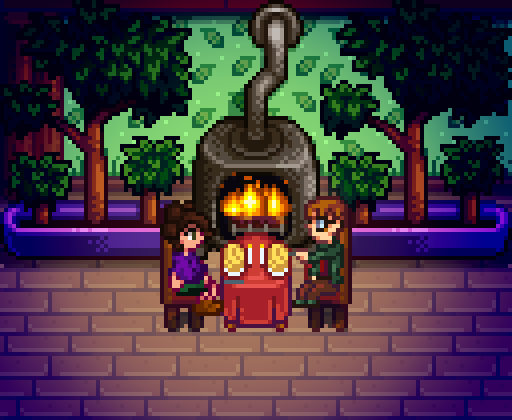 Players on PC will now have the option to screenshot their farm and other areas of Pelican Town worth capturing.
The announcement comes on the heels of the 1.3 Update releasing on Xbox One on October 8 and on PlayStation 4 on September 25. The 1.3 Update, which introduces co-op play and a massive content update, was delayed on the consoles due to issues with Chucklefish, the game's publisher. Chucklefish assisted Barone in the creation of the multiplayer net-code.
The multiplayer update went live on PC and Mac in August 2018 and on Nintendo Switch the following December.
Barone, who goes by the pseudonym ConcernedApe, published a post on the official Stardew Valley site clarifying the relationship between himself and Chucklefish, finishing with the news that he moved to self-publishing the game in Dec. 2018. The blog post came in response to news that Chucklefish had not compensated developers for their work on the hit-title Starbound.
Barone noted on July 22 that the 1.4 Update was nearly finished, but that he was holding the release back for version parity across all consoles.
Who is excited for the next round of free content in Stardew Valley? I followed the development of the game for a few years prior to launch and Stardew remains one of my most played games since it launched in February 2016. I've been waiting not-so-patiently for the latest update and am stoked to see it's just a few weeks away.
What are you hoping to see? Let me know in the comments!