After the Xbox/Bethesda buyout occurred, fans were shocked, excited, and worried all at once. One of the largest things about this purchase was that Xbox would have games like Elder Scrolls, Doom, and many other Bethesda first-party titles now exclusive on the Xbox.
Though some fans were sad about this news, I was excited to learn that Bethesda now had more financial backing to make their titles even more amazing. With that said, you cant turn a lump of coal into a diamond overnight and we learned that this morning.
Bethesda has officially announced that not only Redfall but Starfield as well have now been delayed to Q1/Q2 of 2023. This decision was made to give Bethesda Game Studio and Arkane Austin more time to work out last-minute problems and polish the game to its "best".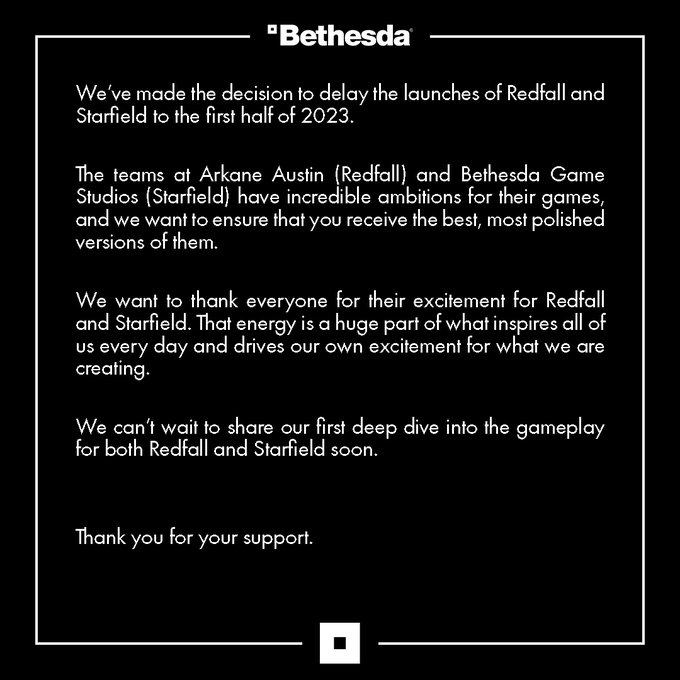 Though this is sad news for fans, this is always for the best and I still can't wait for the Xbox/Bethesda Press event in June to finally see what these two games have to offer. With that said, some of you might be asking what games will you play now that these two are delayed.
Don't worry, below I have listed some games coming out in the next few months that you should play while you wait for these amazing Bethesda titles to release…
EVIL DEAD: THE GAME
Release Date: May 13th
Platforms: PlayStation 4, Nintendo Switch, PlayStation 5, Xbox One, Xbox Series X and Series S, Microsoft Windows
Sniper Elite 5
Release Date: May 26th
Platforms: PlayStation 4, Xbox One, PlayStation 5, Xbox Series X and Series S, Microsoft Windows
THE QUARRY
Release Date: June 10th
Platforms: PS4, PS5, PC, Xbox
Saints Row
Release Date: August 23rd
Platforms: PS4, PS5, PC, Xbox