Goose's flying is pretty fowl. [Glennz Tees]
I wish I could say this was a trick question, but the rebels were never that smart. [Deviant Art]
If Michael Bay directed an Angry Birds movie.  Well, at least it means a new Linkin Park song.  Wait…damn, it means a new Linkin Park song.
And speaking of Angry Birds, Unreality Magazine has finally broken the code on their character designs:
As always, EVERYTHING comes from the mind of Jim Henson.  EVERYTHING.
Tom Hanks+Banksy= Hanksy.  It's like the Exit Through the Gift Shop Banksy, but more good natured and trusting.  I mean, how can you stay mad at that face? [The High Definite]
A little girl decides to join the Dark Side on stage during one of the Disney Land live performances.  Eh, she'll be fine.
Wicket NOOOOOOOO! [Reddit]
The Fresh Prince of Bel Air's cab fare.  I find it hard to believe that an urban teenager from Philly is this loaded.  And I'm sure his Uncle didn't pay for it.  Something smells fishy…
College Humor came up with this Flintstones parody.  Poor Fred…heart surgery via prehistoric animals can't be easy.
That air tank is filled with Scooby snacks…right?
Man is Hit Girl a bad influence. [Geek Tyrant]
Funny or Die ponders what a Big Lebowski 2 just starring Tara Reid would look like.  It's kind of a horror movie.
Speaking of The Big Lebowski, Reddit user Samzon created this Monopoly version of the film.  It's a good old fashioned family board game.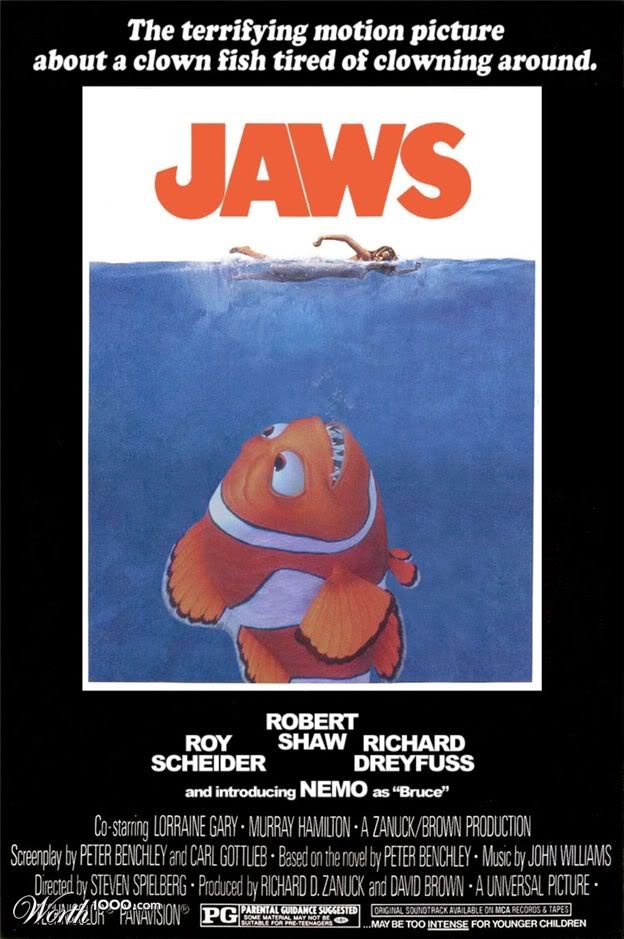 Shortlist created a bunch of Jaws inspired posters.  All of them are pretty awesome.  And with those choppers, Nemo should totally star in Piranha 3DD.
Cracked.com shows us the perfect formula for a science fiction film in 2011.  Pretty spot on, I'd say.
\
Boston: Where Everything Bad Ever Happens (Funny or Die)
Yes, there's such a thing as Romulan Ale.  And yes, you will buy it.  (Think Geek)
The Onion reports on the mass outbreak of Katherine Heigl last month.  A moment of silence for the people who suffered through that tragedy.
Well, that's it for now.  But check back next week for more laughs.  And remember, if you have anything funny you would like to share with the rest of the class readers, email me at [email protected] and it may just show up here one day!