First Man
Overview
Official Synopsis
The riveting story of NASA's mission to land a man on the moon, focusing on Neil Armstrong and the years 1961-1969. A visceral, first-person account, based on the book by James R. Hansen, the movie will explore the sacrifices and the cost—on Armstrong and on the nation—of one of the most dangerous missions in history.
First Man is the inspirational story of what exactly it took to put a man on the moon, from the perspective of that man. 
Neil Armstrong's first step on the moon essentially won the Space Race for America. It was the culmination of more than a decade's worth of preservation by NASA to yield one of humanity's greatest accomplishments. But in addition to being a scientific accomplishment, a victory against another superpower, or even just an optimistic statement regarding the forward-leaning direction of humanity, the first steps taken on the moon signified the completion of a journey by one man. A journey that was motivated as much by the allure of accomplishing a technical achievement of the highest regard as it was by something deeply personal. Damien Chazelle's newest film, First Man, is an intimate retelling of this journey.
The film, and Neil's journey, gets off to a shocking start. We're launched into a jet-fueled high-altitude test run, but the camera is more concerned about what is happening inside the cockpit than out. Analog instruments tick and whirl against an unrelenting roar as Neil rattles back and forth as if he was strapped to a paint shaker. His view outside is nominal, at best and it's only his feel of the controls which tells him when things start to go wrong, bouncing off the atmosphere into space. Quick action and ingenuity are responsible for getting him home safe, but a successful mission doesn't discount the fact that it was a very close brush with death.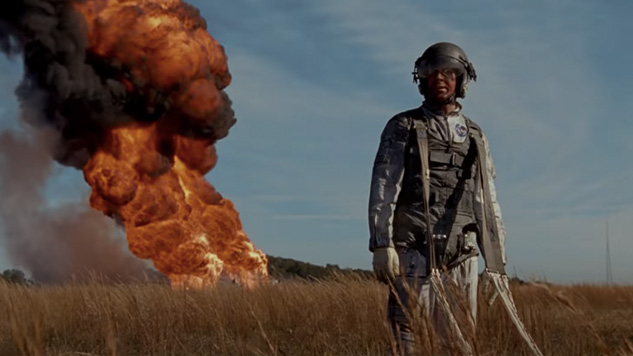 This opening sequence tells a lot about not only the (alarmingly primitive) state of technology at the beginning of the space race, but also the combination of guts and brains it took to achieve progress. It is an initial invitation into the head of the most famous American astronaut, who replies with an unconvincing "yeah" when asked if he is alright afterwards. This experience, shocking to audiences as a first glimpse into this little moment of history, ends up as a good representation of the working conditions whilst living on the cutting edge. But, First Man doesn't portray Armstrong as a thrill seeker/adrenaline junkie, or obsessed with achieving greatness for the sake of country or species. He isn't driven by a need to prove himself or his abilities, but instead by an insatiable need to escape.
Upon this realization, audiences will be able to identify the originality of First Man. Unlike films such as Apollo 13 or The Right Stuff, First Man is less concerned about the big picture, less concerned about the technological achievements, or the specifics of training and performing missions in space. It is a biography told from the perspective of the man at its focus, at the time the events occur, rather than the impact of his success in the grand scheme of history. Today, Armstrong is seen as a national hero, and is indeed the figurehead for an impressive achievement by mankind in general. But Chazelle's film distills this image to the core. Armstrong may have many incredible attributes that allowed him to become the first man to walk on the moon, but it argues his success in that regard is at least partially responsible to both luck and his shortcomings as a person.
That is not to say First Man lowers our opinion of Armstrong, or otherwise reduces his achievements. It does the opposite. Armstrong's perseverance in the face of so many challenges and complications is inspirational. First Man gives us a glimpse into his brilliance and steady nature, both attributes which ultimately made the Apollo 11 mission end in success. It explains how, in the face of personal hardship, he chose to apply himself to his work. It became his coping mechanism to get away from the emotions and thoughts that haunted his mind. There's a key moment early in the film when Armstrong is being interviewed to become an astronaut, and he is asked how he believes a recent personal tragedy will continue to affect him. His response is essentially "I don't know", and we wonder if an inability to deal with compounding personal issues will ultimately disqualify him from one of the most demanding jobs ever created. But rather than being held as a mark against him, it becomes his strength. When disaster is about to strike a mission, Armstrong remains focused and calm. The harshest experience of his life made him strong enough to become the first man to walk on the moon.
In this way, Chazelle allows us to see Armstrong as a regular person. He has his strengths and weaknesses, both of which are ultimately responsible for what happens to him. The films shows that First Man is just like Any Man. It's about facing challenges and how we can all make our weaknesses into our strengths. It is about perseverance and preparation as much as it is about how we react after something doesn't go as planned. As an inspirational biography, a glimpse into history, and a heartfelt drama, First Man works. But it is not a perfect film.
From the beginning, director Damien Chazelle's intended first-person perspective is evident. The camera often shows us what Armstrong sees, or limits our perspective to the interior of a capsule, rather than depicting the craft from the outside. He also places his camera directly behind his actors, or frames their faces up close. This technique establishes the intention of the film, as well as demonstrates a clear difference versus similar films that have come before. However, the closeness of the picture makes the film claustrophobic, almost like an example of found footage. The natural beauty of space is intentionally dulled, cast through a chaotic and more practical lense than we are used to. That, in itself is not a bad thing - it gives a sense of realism to the viewing experience. But for a director who showed such flair and artistry in his previous films, relegating First Man's most intense moments to blurred shaking cameras, and dizzying closeups, makes it more difficult to watch than it should be.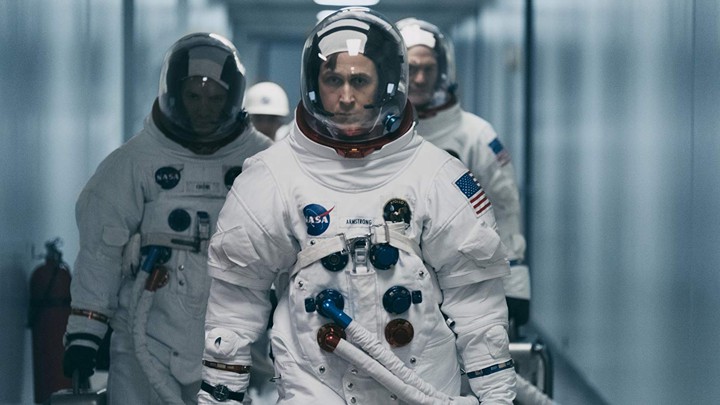 The script picks and chooses from the moments in Armstrong's life leading up to his stroll on the moon. Some of these scenes go more in depth than others, depending on the tone and themes the script is trying to extract. Through it all, the film remains unwaveringly devoted to Armstrong, which is both an asset and a liability. An asset because it allows enough time for another mostly-silent Ryan Gosling performance to run its course. A liability because characters come and go, without enough focus for them to be as entirely effective as they could be. This results in a film that doesn't feel as deep as it could have been. The timeline also ramps up and slows down on a whim, which results in uneven pacing.
Overall, I think Damien Chazelle has to be applauded for First Man. Perhaps it is not as much of an accomplishment as his previous films, but such is the scourge of having success early in one's career. Chazelle shows real talent as a filmmaker, proven by maintaining thematic and technical proficiency despite moving away from the music-based films he had worked on previously. Chazelle and his cast not only do justice to Armstrong's legacy, the film does a lot to enhance it. While neither the most exciting space-based historical drama, nor the most engaging biopic, First Man touches down somewhere in between.  
Editor review
Focus on the human side of one of the greatest scientific achievements of all time.
What's Good: Inspirational and interesting story, exciting retelling of history in a more personal manner than most, great cast, strong direction, powerful score and sound, detailed production.

What's Bad: Take-it-or-leave it mumbly Ryan Gosling, migraine-inducing action sequences, claustrophobic direction, uneven pacing, and a script of varying depth.
User reviews
There are no user reviews for this listing.